Cory returned home from Japan on Friday Feb 3 (actually, he got in at around 12:45 am on Saturday; I was happy he was coming  home but it was hard to stay awake that late after working all day). He was home for a whole week. Then he headed back to Japan.
I drove him to the airport on Saturday morning (Feb 11), this time for 4 weeks. Really early in the morning.
Anyway, Saturday started out as a warm (for February) day. It rained all morning, then turned to snow shortly before noon. It then proceeded to snow for the rest of the day.
Frank seemed to think he wanted to go out for a walk during the snow storm. It actually wasn't that cold during the afternoon – just cold enough to snow and no wind – so I put him in his harness and  out we went.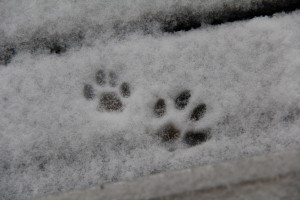 We made it down the front steps. We stood in the driveway for a few minutes while Frank made sad meows and rubbed against my legs. Then we turned around and came back in the house where Frank could keep his paws warm and dry.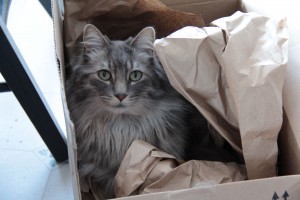 It was a quiet weekend. I'm told Sunday was cold, but I did not step foot outside, I was busy doing things in the house.
I finally got around to making Kale Chips, after reading about them on food blogs for the past year or so. I looked at a bunch of recipes, then just made up my own. I used lemon zest, sesame oil, olive oil, cayenne & sea salt. I baked them at 275 for 45 minutes. Then I stood at the stove to taste them.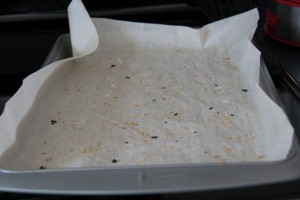 They were kind of good and then they were gone.
Monday and yesterday were cold. I did not enjoy having to walk from the car to the office. Where is a husband to drop you off at the door when you need him? Oh right; Japan. And then it warmed up again. Yay! I am going to be so spoiled after this winter.
Speaking of spoiled…Cory did bring a few treats home from Japan; Hibiki Whiskey in special edition bottles, a gold bookmark, and cookies – including Hello Kitty cookies.