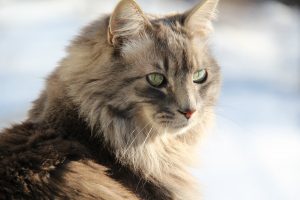 Frank was a large cat with soft paws and a tiny meow. He had the thickest, softest, silvery fur that felt lovely to bury your hands in. He was a solid armful of cat.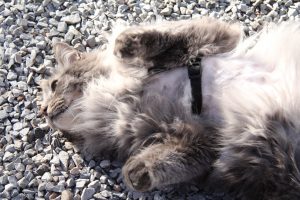 He liked me to follow him around the house while he rubbed his face on corners and door frames. He liked to find out of the way places to take a nap. He wasn't a lap cat, but he liked to be close by and and enjoyed cuddles. He liked me to walk with him outside, or just hang out with him.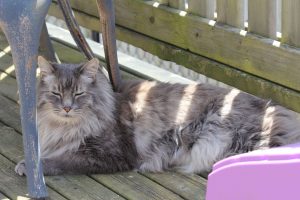 He was a staunch defender of his territory.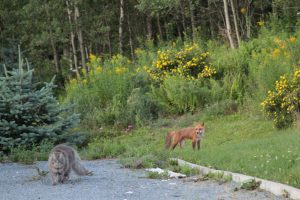 He kept me company when Cory was travelling.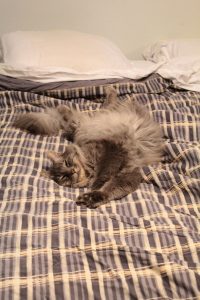 He was adored.
One or both cats will usually wake me up at least once in the night and first thing in the morning – or try to wake me anyway. Often by the time I manage to wake up, they are both relaxing on the bed, just waiting for me to move.
There is the odd morning where I don't see one of them first thing – I tend to think of those as mornings after a night when they had too good a time running around out in the yard. I always look for them before I leave the house though, because I like to know for sure where they are.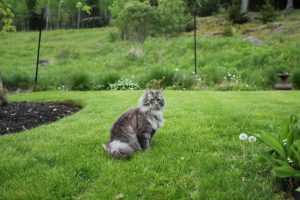 So this morning when I didn't see Frank, I thought he was probably in Cory's computer room. I've been setting up in there on Fridays when I work from home, so I went in to pack up my stuff and, sure enough, Frank was stretched out on the floor. Not an unusual pose- cats do like to sprawl – and I thought he was asleep.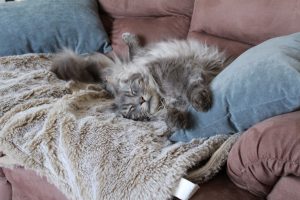 I'm sure I said something like "Good morning Frank!" I stepped over him and picked up my bag to start packing up my laptop and Frank did not move, not even a twitch of a paw, and it seemed to me that he was too still. Checked to see if he was breathing; not the first time I have done this because cats can sleep pretty hard, but this time I was not reassured. Cory had come into the room by now and was asking me "What's wrong?" I asked "Is he moving at all?" And Cory said "Oh no…"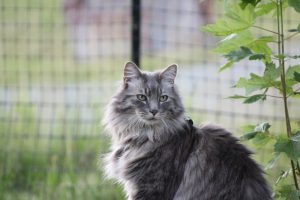 Frank was coming up on 14 years of age. I have been cognizant of the fact that time was winding down, and doing my best to appreciate the moments. Neither cat has shown any sign of slowing down though, so I thought we still had some time.
My heart is breaking a little bit right now.
Thanks for the cuddles and purrs Frank, and for the times you made me laugh. Thank you for being a comforting presence when I needed one.  You will be missed.