But first flowers.
Normally when we get home from work, we are greeted by both cats waiting to be fed. Friday when we got home from work, Frank was nowhere to be seen. I figured he was probably outside snoozing under a bush and couldn't be bothered to come it, but it never happens, so I kept waiting for him to show up.
I put out the food dishes, puttered around a bit, and finally I had to go out and look for Frank so I could stop worrying. It was damp and drizzling, and sure enough as I entered the yard, there was Frank lazily crawling out from under a bush. But I was also greeted by some new flowers and stopped to snap a few photos.
I love how you can see the water droplets on that last one (you may have to click to enlarge) . You can also see the sleeve of my green sweater as I was steadying the flower against the wind.
Sunday turned out to be a really nice day. Cool still (definitely feeling like fall), but sunny and clear. A good day for harvesting veggies.
Tomatoes are ripening quickly now.
I picked a whole basket of tomatoes, then got down on my knees to pull some carrots; I wanted to make Hodge Podge for dinner. Next thing I knew I had company – in the form of Zappa sitting on my back while I pulled carrots. I guess he was feeling neglected.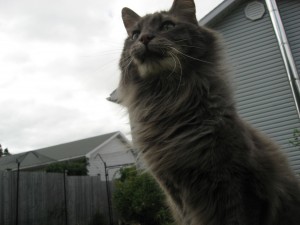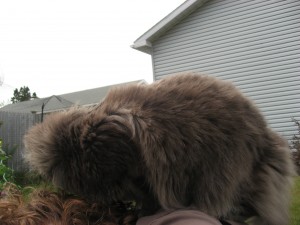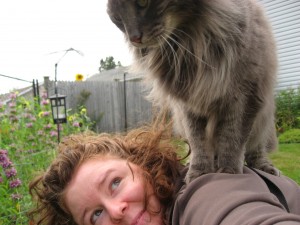 It's really not easy to take pictures of a cat sitting on your shoulders, but there we are.
After carrots came potatoes. Can't have Hodge Podge without potatoes!
I did try sticking my hand in the opening at the bottom of the bag, but it was really hard to get my hand in there and move around. So I ended up just digging out one of the potato tubs.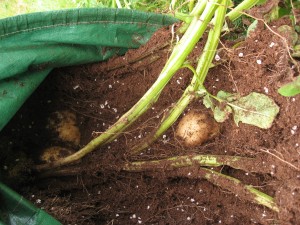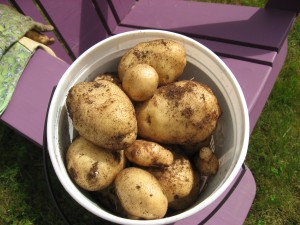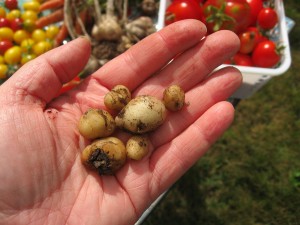 In the end I filled my tomato basket, my potato bucket, and then some.
It was more than I could carry, and someone was staking out the gate.
I ended up taking Frank out for a bit of a walk, and letting him eat some exotic "Outside the Fence" grass.
Then I took Frank in the house and dragged Cory out to help me bring in the harvest. After a quick trip to The Pumpkin Patch (farmer's market) to pick up a few extras, we were ready to make dinner.
And the garden is not quite done – there are still tomatoes, carrots & potatoes to be picked/dug. This was my third year with the veggie garden, and I think it's my best so far.