Last day of painting class. As busy as things have been lately, I know it will be a good thing to have my Sunday afternoons free again, but I think I am going to miss this! It feels good to stretch some creative muscles.
Today we took our painting out doors. Before we went out, our instructor gave us a little back ground on plein air painting; apparently it was not really a thing until the impressionists came along – something I did not know – and painting outdoors really lends itself to impressionism, since you have to work fast; things move, light changes…I can tell you from my experience today that it feels a bit like going after a moving target.
I am not a fast painter.
It was cloudy today, and a little on the chilly side, but fortunately not really windy. We drove to a spot nearby on the river, where there happened to be a couple of convenient picnic tables. Then we dove right in.
At the end of the class we always compare paintings. I found it very interesting that between the four of us students, we came out with very different paintings, even though we were all in the same place. Of course, we all had different vantage points, and chose different things to focus on, but the colors/tones that we chose were all so different.
Mine was more blue – maybe because I love blue?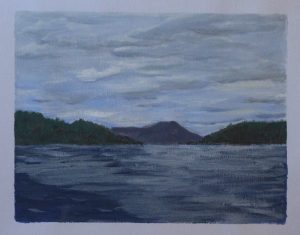 At the end, as we were all leaving, our instructor told us all to "keep painting!" I will really try to carve out some time most weekends to do that.