I have been staring at the sky, fascinated with clouds since last Sunday's painting class. It doesn't hurt that the weather finally took a turn for the better  and we've had some lovely warm and clear days.
And, finally, a long weekend! I felt like I needed it. Unfortunately, neither Cory or I have been feeling very well. I didn't get as many things done as I had hoped, and I'm still not feeling great.
So I didn't exactly get a start on spring cleaning, but painting I could do…I am in the mood to paint blue skies and clouds.
First up, how about a beautiful summer day at Peggy's Cove: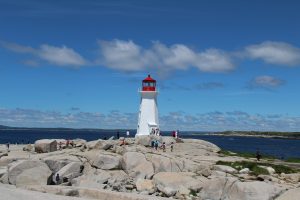 This photo was taken in June of 2014 during a family outing. Such an intense blue sky!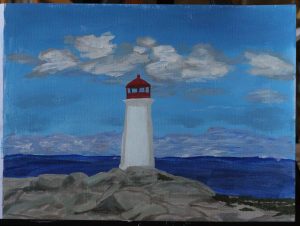 This was painted on acrylic paper (not canvas), still sticking to the basic paint colours, in this case: Cobalt Blue, Cadmium Yellow Medium Hue, Cadmium Red Medium Hue and Titanium white. I did use a little bit of a "Bright Blue", since in class our instructor suggested mixing in a bit of a primary or cyan blue (though in class we were working with ultramarine) and that was the only blue I had that seemed like it might work as a substitute.
I will revisit this photo in the future, and have another go at it. But for what it was – a practice piece to work on skies – I thought it turned out okay.
I have started on another, which is still in progress; I happened to come across this photo that was taken on my iPhone (this is a cropped version) which has lots of interesting clouds: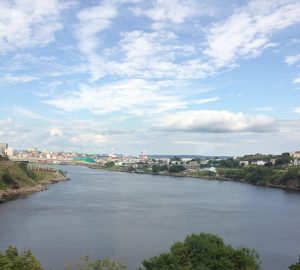 This was discovered and started today, and so far I have only been looking at the clouds: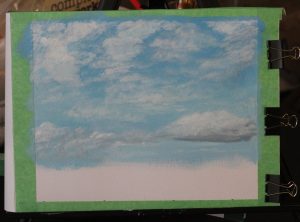 This one is on canvas, using Ultramarine Blue, Cadmium Yellow Medium Hue, Cadmium Red Medium Hue and Titanium white, again, with a bit of the Bright Blue. I did not get the right colour blue at all, but I decided to just go with it; I didn't really have good light for seeing the colour for one thing, and I am still able to work on clouds.
I will play around with paint colours to see how I can get the right blue for a future effort.