So I decided to start painting! It's one of those things I've always wanted to try, and I decided it was time – thanks in part to Kim Stubbs' Van Vino events which gave me the opportunity to try it out without having to stress about all the details.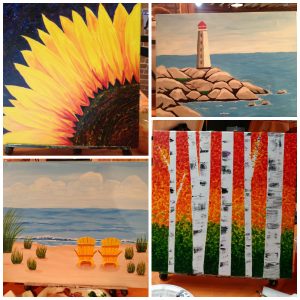 It's easy for me to get overwhelmed if I let myself think about things too much, there was still a certain amount of hesitation, but with some help from google, I finally dove right in.  I started playing around with paints in October, or thereabouts.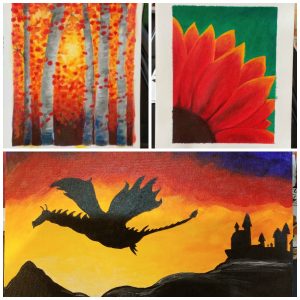 December
I have been enjoying a rare week and a half of winter vacation at home in SJ. I know our families were probably a little disappointed that we didn't get to NS over the holidays (sorry families!), but I think I needed it. It's been a hectic couple of months. It took a few days, but I have been feeling rested and relaxed, and I've been able to find time for some painting almost every day which feels like a luxury. Piano practice too!
The weather has been conducive to staying in. It goes from cold to warm to cold, with precipitation in between, so there's been lots of ice. We really have no where to be, nothing we need to do. We did go to see Rogue One on Monday, since Cory missed the viewing for our office. We've been out to buy groceries a couple of times. But most of the time I barely know what day it is; my kind of vacation!
So, I've been working on two paintings. I chose a winter scene, and I started that on Dec. 23. Then I think I must have been down to the detail work on the first one, and started looking for the next project which led me to a still life of a cherry.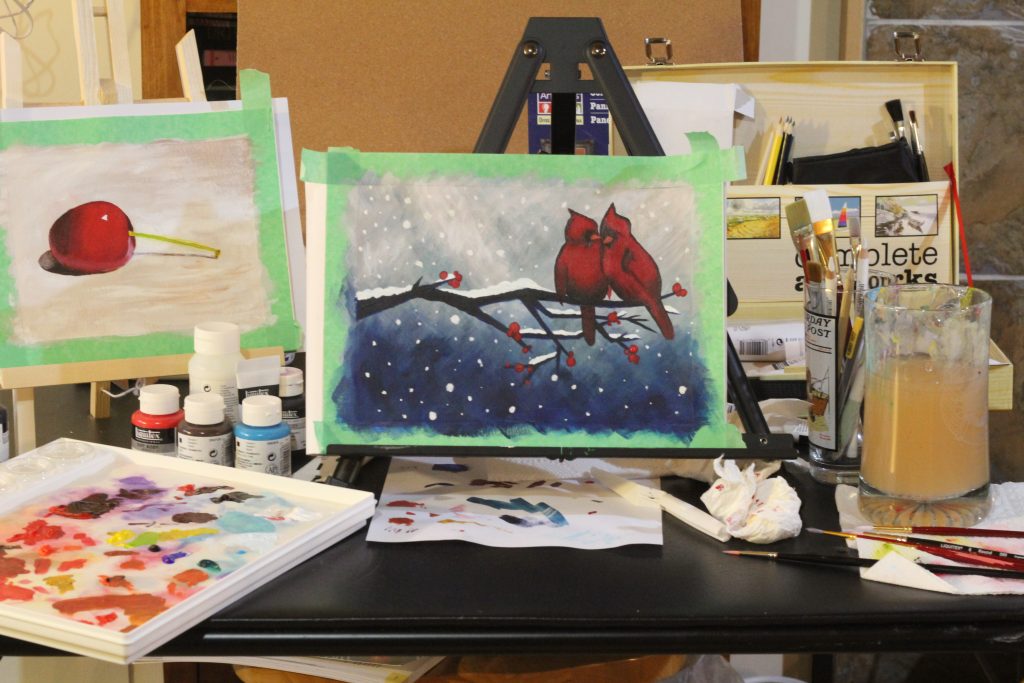 I am a slow painter. I like to take my time; work on a stage, give the paint a chance to set, give myself a chance to walk away so I can come back and look at it with new eyes. When you are staring at a painting for a long time, working on bits and pieces, it can be hard to step back and see how the whole thing is coming together.
So I decided to get started on something else, since I was close to finishing the first one. I had been browsing around a website – http://willkempartschool.com/ – and decided I would try one of the free instructional videos. The website indicated Acrylic Still Life Painting of a Cherry For Beginners as the place to start, so that's what I did.
So you're wondering: what's with the green painter's tape? Right?
The internet is a great place for finding information and opinions. A lot of that will be conflicting. One thing that was pretty universal, though, was the idea that thou shalt paint on canvas panels! I sort of understand that advice…But I ignored it.
Because I'm learning, folks. And I'm thinking that learning is going to mean a lot of paintings. Some of which will likely go wrong. And even if they all go right – what do you do with them all? I mean, cost aside, those canvas panels take up space – this I know because I have 5 completed Van Vino paintings kicking around (I had seven, but my mom now has two of them). They make pads of canvas paper, and to me it just makes sense to go with that so I can experiment to my heart's content.
But the green tape? What about the tape? Well, it just looks neater to me. I like the border, with the nice straight edges. I'm not worrying about getting paint all over the place if I paint to the edge of the paper. I'm sure there are other solutions, but I'm happy with this for now.
It means all of my projects are small, and I admit to some trepidation when I think of doing a larger painting someday…But I'll cross that bridge when I come to it.
So the paintings…
Painting #1: Still Life of a Cherry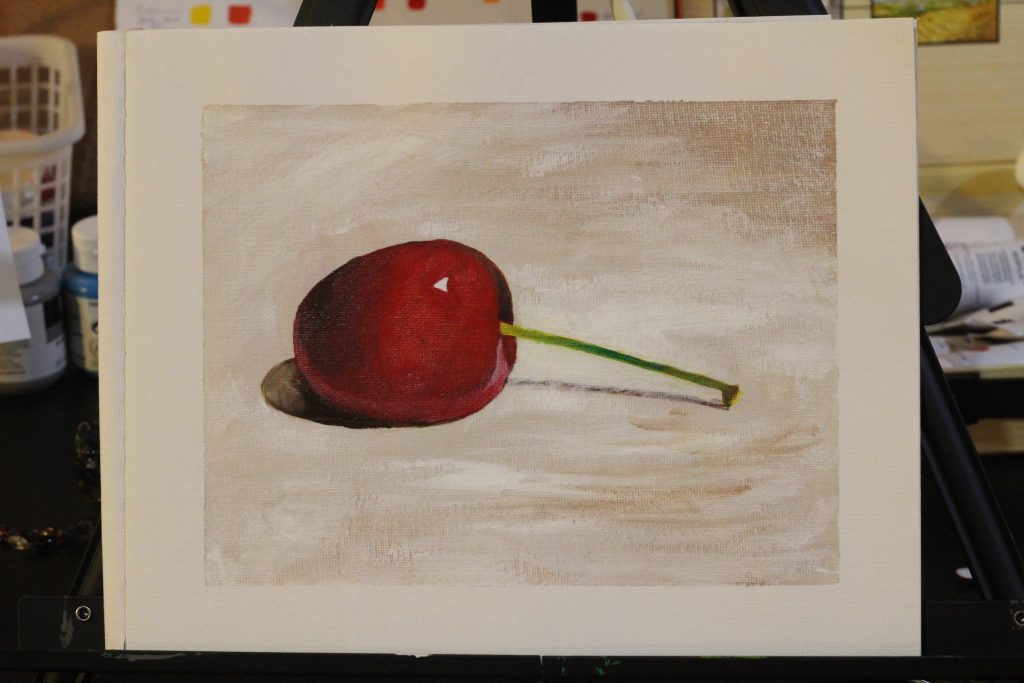 I can honestly say that I've never had any strong desire to paint fruit. Or tea cups or wine bottles, etc. But, the still life painting seems to part of the learning process, so let's go with it. My thoughts on this:
I did the base layer (the coloured ground) too light. It seemed okay at the time, I didn't realize til later on. I think maybe it was hard to tell from the video. It's painted over, so maybe it doesn't matter so much anyway, but I know.
I also messed up on my drawing (something I need to work on), and I substituted some colours, based on what I had.
I did not print out the reference image, which I should have. I thought: "I'll be there sitting in front of the computer, so I'll be able to see it on screen," but that doesn't work very well when trying to watch a video at the same time.
I kind of got lost somewhere toward the end, and I confess that I kind of just reached a point where I gave up and decided: good enough, I'm done. It's not that it was hard, or that the video was poorly done – I think I just need to get used to working this way?
In the end, it does look like a cherry if you don't stare at it too hard. I do plan to do the drawing course from this website, but I need to get out to the craft store for some materials I am missing first, so that is on the back burner for now. Maybe, someday down the road, I will get the proper colours and try again and hopefully by then will be able to demonstrate that I have learned something. 🙂
Painting #2: Winter Cardinals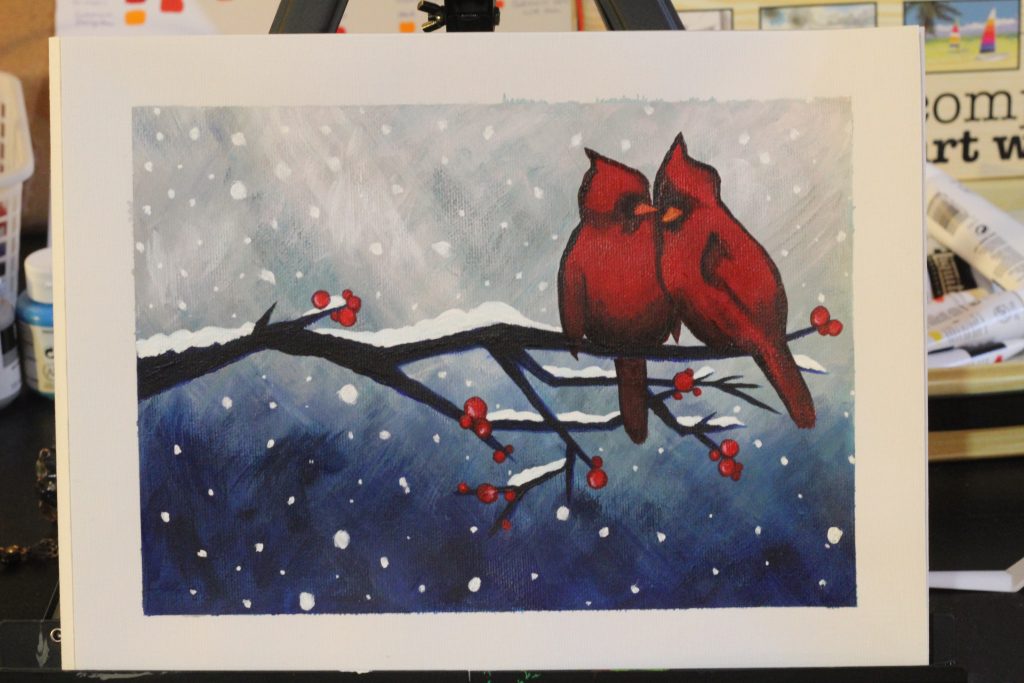 In October I was choosing autumn scenes. When I was looking for something new to start last week, this one jumped out at me.
The thing with this is: I am blindly choosing paintings. I don't know what colours or techniques were used by the artist who painted the original. It's easy to get lost in the fact that the colours don't quite match the original, etc. But that's okay once I can take a step back and look at the painting by itself, not comparing with the one that I'm working from.
The birds, obviously, were the most difficult part. But hey, I've never painted birds before, and I already know I need to work on drawing, so I can give myself a break, right? It actually mostly freehand anyway; once I had the back ground and branch done, I put in some basic line to give me a position to work from. I can see other mistakes too, but I learn  best by doing, and hopefully I will improve. Given the fact that I was winging it, I am pretty satisfied with how it turned out.
I really do want to start working from an original photograph, something of my own. I even have one picked out. But somehow that is way scarier than copying another painting. Not sure why that is, exactly.
Oh well. Baby steps, right? For now, I've started on a new Will Kemp tutorial, and I have chosen another painting to copy as well. Not sure how far I will get, since vacation is almost over, so I will be back to trying to squeeze in some time on the weekends, and it may be a while before I have something else complete.
Note: For the paintings other than the Still Life of a Cherry and the Van Vino projects, I have no idea who the original artists are. I am not claiming them as original works – though mine do not exactly mimic the originals. They are exercises to help me learn. So thank you unknown artists!