The last weekend in August 2010 is over and it's almost September. We had a beautiful, hot & sunny weekend – perfect August weather.
Friday night and Saturday were full of busy, at home chores. Getting some more of that wood stacked, that hasn't been touched since the first weekend in August – think we're almost done. Doing some cleaning and some baking, getting ready for company.
Lynne & Jim (Cory's parents) arrived on Saturday evening and stayed until this morning. We had a good visit, including some Doctor Who, a trip to Costco and a BBQ.
We've had a stretch of hot weather with not too much rain, so I've had to keep my garden planters watered. But hot, sunny weather is just what the tomatoes ordered.
We're not exactly drowning in tomatoes yet, but since Saturday I've been bringing in a few every day. Mostly cherry and grape tomatoes which are oh so sweet tasting.
My two little bean plants are still producing away, and soon I will have miniature cucumbers.
I would have picked this one on Saturday, but I need something to cut it off the vine and I didn't have anything with me. Soon though!
I am keeping an anxious eye on these Striped Cavern tomatoes. I tried growing them for the first time last year, and I did get a few but they were pretty disappointing. Last year's garden – especially the tomatoes – was an all around disaster though, and so far things are looking promising this year.
Saturday night Cory & I barbecued, we were able to include a little bit of fresh from the garden produce.
The tomatoes & cucumber got a drizzle of balsamic vinegar and olive oil. The potatoes weren't from our garden, but I'm pretty sure there are some out there ready to be eaten!
Today was another scorcher – hotter than the weekend actually. I went out to water my containers again. This time the cats were in their harnesses, which actually made it a bit easier because I could leave the gate open. Have to keep an eye on that Frank though!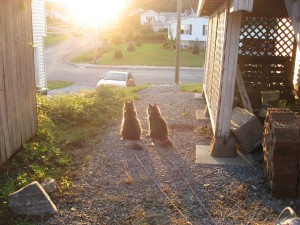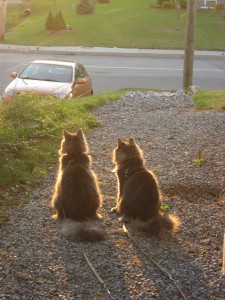 My potato plants are not looking too good, I think they are pretty much done.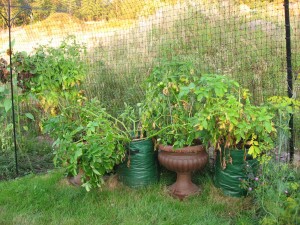 But I can see a potato.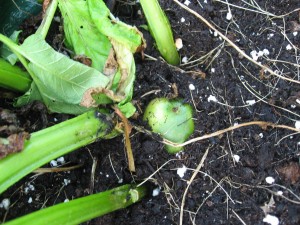 So I know there are some in there! Time to get out and get digging!
Sunflowers are also heading into full swing. I've got two different types (I actually had 3 different types of seed, but can't remember if I planted all three – guess we'll have to wait and see).
Tonight I was walking around the yard smelling dill! It smelled so good.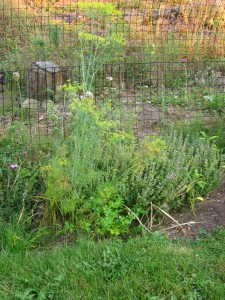 Tonight's handful of tomatoes.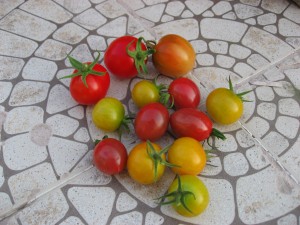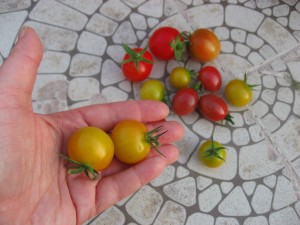 They're not huge, but they pack a lot of flavor.