Thought the family might like to see the new fridge. For comparison's sake, a shot of the old, then the new…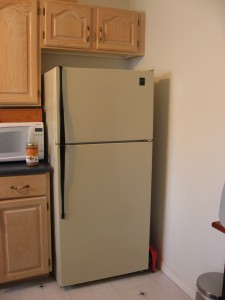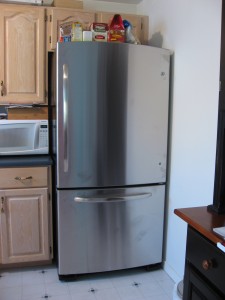 A small difference in size, no?
Edit 2010-8-26 – Still getting used to the giant-ness of the new fridge. The delivery guys had to remove our front door and take the freezer door off of the fridge in order to get it in the house. So far, loving all the space in the fridge sections. The freezer – not so much. Looks like it should be a nice big freezer doesn't it? But the way the interior is designed leaves us with less freezer space than we had before (Cory says not; I am convinced yes). But, having looked at countless display models, I wasn't completely taken by surprise either. Just means that we will definitely need to buy a freezer.

And because Mom hasn't seen the new living room arrangement yet…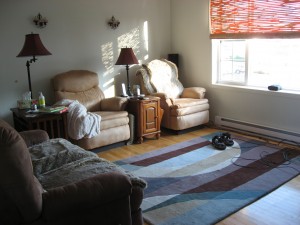 Excuse the lived in look, but, you know. We live there.  🙂
We're quite pleased with it. It feels a lot more spacious now.
And, since this is supposed to be a garden blog…My second handful of tomatoes. Including a few more unfortunates that feel to the ground before they were ready.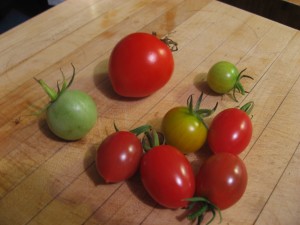 And that's all for the mid-week installment!