First tomatoes of the season!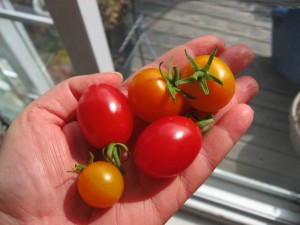 I was talking to Mom on the phone today (Hi Mom!), saying that we hadn't any ripe tomatoes yet, but they were coming. A short time later I was out in the garden picking my first handful. You can bet we made short work of that particular harvest!
I knew that I would very soon be picking grape tomatoes from this plant, and I'd been keeping an eye on it.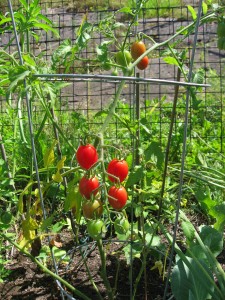 Then today, I went out to water my container plants, and during that exercise happened to be standing in just the right spot to see the yellow ones peeking out through the tomato foliage. A very welcome surprise!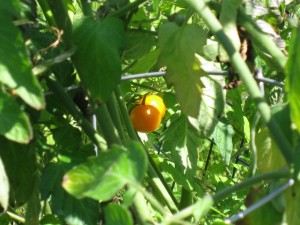 It was a very tasty preview of things to come.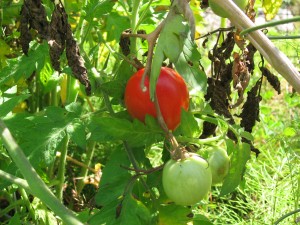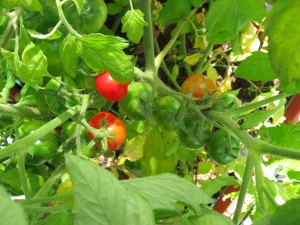 I also found a few that had fallen to the ground and picked them up to take inside. The green[ish] ones may still ripen up.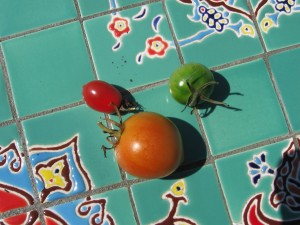 The sunflowers are also starting; this one is in the veggie garden, next to the peas & beans.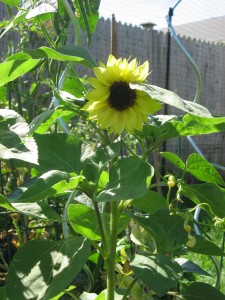 And these two in the flower bed along the end of the yard.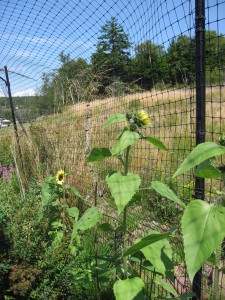 Speaking of peas and beans…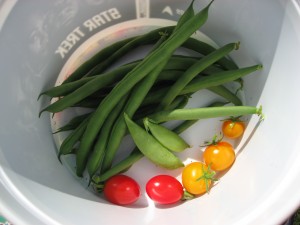 Two last, lonely Sugar Snap Pea pods (which I ate) and a second harvest of green beans. It didn't look like a huge amount of beans, but it was actually plenty for two people. They went into a stir fry for supper tonight.
All in all, it was a satisfying day in Frank & Zappa's Garden!