Among other things, this week was the time to watch the Perseid Meteor Showers. Since they tend to happen late at night, we normally would miss them because we are asleep. However, Cory was up late for work two nights this week so Thursday night he woke me up around 12:30 am and we went out to watch for meteors. It was still early to be watching, but we stayed out for 45 minutes or so and we did get to see some. It was pretty neat. And the cats seemed to think it was great that we were outside with them in the middle of the night. I won't lie; I was pretty tired on Friday but it was still pretty cool.
Another cool event – I have been waiting for my Green Thai Eggplant to bloom, curious to see what the blossoms would look like. We got to see this week.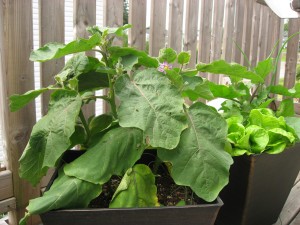 And, I've been watching the wrong tomato plants! The grape tomatoes are going to win the race.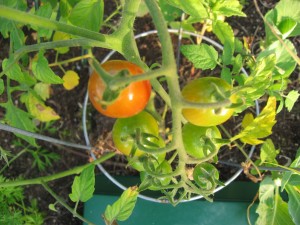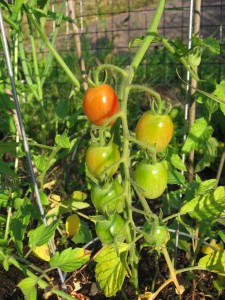 This weekend also saw the return of high temperatures. For a while there it had cooled off a bit. Still warm and sunny, but comfortable temperatures.  This weekend it has been really hot, so I spent last evening hanging out in the yard after it had cooled off a bit. It stays really warm in the house, but outside it was quite nice.
I was trying to relax in a chair and read, but I got kicked out.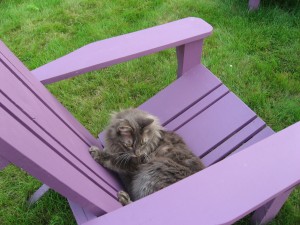 So I puttered a bit, pulled some weeds, watered some plants, then settled in the other chair with my book. Before long, I had company again.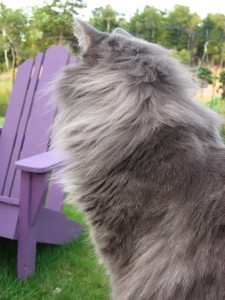 Zappa appears to be quite territorial about these chairs.
Then I noticed Frank standing at attention.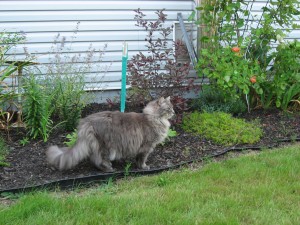 So I got up to have a look around and see what was so interesting. We had visitors outside the fence.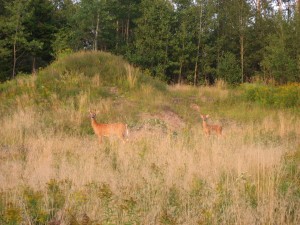 I watched for a while, and when I turned back, I'd lost my chair again.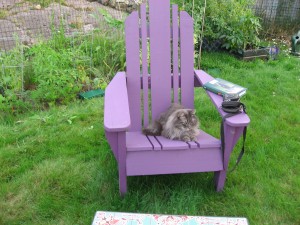 Looks pretty comfy, doesn't he?