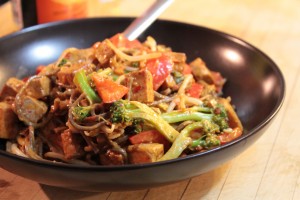 I saved this recipe from Fitness magazine years ago. I was living on PEI at the time, I remember hunting around for Soba noodles; they were not easy to find. It is a vegetarian dish, the protein comes from the buckwheat noodles and peanut butter, so most of the time I made it when Cory was not home and I was on my own for dinner. Now that I am trying to  avoid/limit gluten, it has become a weekly menu item. (Note: most soba noodles in North America do have some wheat, so if you need to be 100% gluten free they won't work for you unless you can find a 100% buckwheat variety.)
Here is the original recipe:
Soba Noodles With Spicy Peanut Sauce
Prep time: 15 minutes
Servings: 4
One 8.8 oz pkg Soba noodles
Spicy Peanut Sauce:
– 3 tbsp fresh lemon juice
– 2 1/2 tbsp brown sugar
– 2 tbsp low-sodium soy sauce
– 1/2 tsp red pepper flakes
– 1 clove garlic, minced
– 1/8 tsp salt
– 2 tbsp creamy peanut butter
One 8-oz pkg frozen sugar snap peas
1 small red bell pepper, thinly sliced
1/2 cup chopped scallions
1/2 cup fresh basil or mint
Cook Soba noodles in boiling water as directed (about 6-8 minutes). Meanwhile, make Spicy Peanut Sauce:
In a small saucepan, combine lemon juice, brown sugar, soy sauce, red pepper flakes, garlic and salt. Bring to a boil, stirring frequently. Remove from heat; whisk in peanut butter stirring until smooth, and set aside.
Two minutes before noodles are done, add snap peas. Continue to boil until noodles are just cooked. Drain noodles and peas and transfer to a large serving bowl. Add bell peppers, scallions and basil. Pour sauce over noodles and toss to coat.
The original recipe was quite tasty, but over the years I have evolved the recipe and now my version goes something like this…
You should be able to find Soba Noodles in an Asian grocery, or the  organic section of your grocery store. While I usually consider breaking long noodles to be a crime, I find in this case it's easier to mix everything together  at  the  end if you break your noodles in half. They are quick cooking noodles, though exact cooking times vary so check your package. Once cooked, drain and rinse well with cold water. Set aside until you are ready to use.
I like to stir fry some veggies – what I use varies based on what looks good in  the grocery store or what we have in the house. Tonight it was some broccoli, bell pepper, bean sprouts and green onions. Bok Choy, Chinese cabbage are also good, and I have even thrown in some spinach if I have  some around.
I'm pretty happy with just veggies, noodles and peanut sauce, but sometimes I will throw in some tofu as well. If I'm making it to  share with Cory, I will usually add shrimp. I think we've done chicken once or twice.
Once  my veggies  & protein are  pretty much done, I add in the noodles and sauce and – carefully – stir everything together. Give it a few minutes over low heat to make sure everything is warmed through. Fresh herbs are a nice addition if you have them – I like cilantro.
For the sauce, I think you can reduce or omit the sugar (I also skip the salt – soy sauce does the job). You could also use a bit of honey to sweeten instead of sugar. I sometimes like to use Mirin, which is a sweetened rice wine. It used to be hard to find, but lately we've seen it in the imported/Asian foods section of the Superstore, along with light soy sauce.
Superstore also has a line of frozen herbs, and we usually keep the frozen garlic & ginger on hand. At the end of the day, when we're wanting to get dinner made quickly, it's convenient to grab them out of the freezer. I usually add a bit of each into my sauce.
Finally, if I were only going to have two  prepared Chinese sauces in my fridge, they would be Chili Garlic Sauce & Black Bean Chili sauce. I like to add the Chili Garlic Sauce to my peanut sauce for the noodles; if I'm using tofu, I like to marinate the tofu cubes in the Black Bean Chili sauce. We also use these sauces in other stir fry dishes and sometimes  in making soups. I've only ever seen the Black  Bean Chili sauce in Asian groceries,  but Chili Garlic sauce is pretty easy to find and most grocery stores have Black Bean Garlic sauce which is also good, and is a non-spicy option.
Really, there's a lot of room for customization here. I think you could use almond butter if you didn't want peanut butter; if you can't find Soba noodles, you could try rice noodles; add in whatever veggies & protein you like. If we don't have lemons, I've used lime juice. And like all stir fries, there is a bit of prep, but then it all comes together quickly. Before you know it, dinner is served!