Back in November, after talking about it for quite a while, Cory & I stopped in at Barley Malt & Vine to check things out. We ended up purchasing a wine kit. For a fee, they make the wine on the premises and when it's ready you go in and bottle it. We made an appointment when we bought the kit and today was the day!
They have quite a nice little set up and I thought my parents would be interested in seeing it, so I pulled out my iPhone.
This was our first time, so we purchased bottles (we chose blue 750 ml), along with labels, synthetic corks and foils for the tops of the bottles. The process was quite simple.
First, disinfect and rinse the bottles.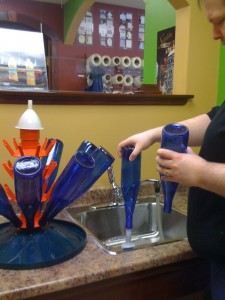 Then fill two at a time.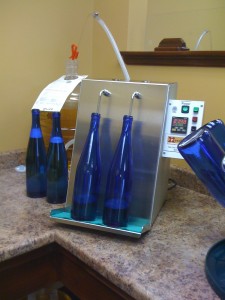 It's pretty easy – you basically push buttons. You push the start button, which is timed. If the bottle was getting full and you could see there was still time left, you'd push stop. That didn't happen for us – mostly we'd push start and when it turned off we'd hit the manual button to get to the correct level.
Then we corked the bottles.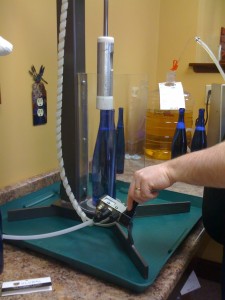 And applied labels.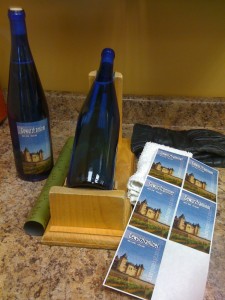 You can design and print your own labels, or choose from stock labels. We found a Gewurztraminer label that we liked, so we went with that.
After labels, the foils went on.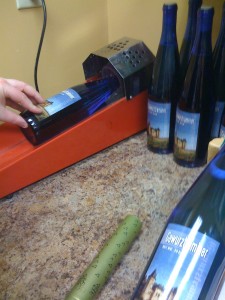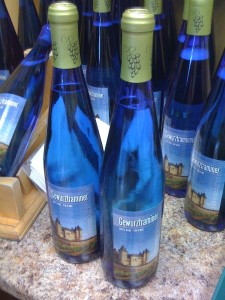 The time flew by and we were finished in an hour which was less time than we expected. And now we have 30 bottles of wine in our basement. It was kind of fun, actually, and I wouldn't be surprised if we do it again.