I confess that I did not make it out to the garden at all this past weekend, which is a shame because the weather was decent. But it didn't happen. I will need to get out finish tidying things away soon though.
Weekend of Oct 16 & 17
The middle weekend of October was rainy and damp, for the most part, so I didn't get outside much on that weekend either. The weather was warm though, and by late Sunday afternoon the sun was out.
I pulled a bit of a fast one on the cats – I gave them their evening meal of wet food & plain yogurt, then shut the window to the cat door while they were distracted. This allowed me to have the gate open and start carting some things out of the yard without worrying about the cats taking off. Time to start bringing in tomato cages, bamboo plant stakes, and my pretty table.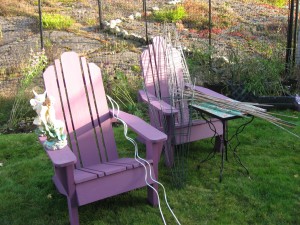 While I was out in the yard, I discovered that one of my tomato plants had not given up.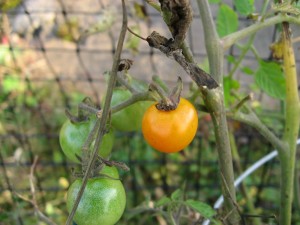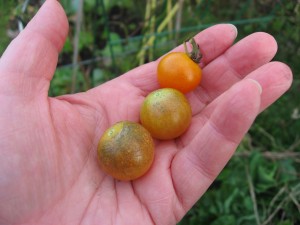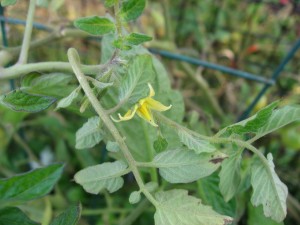 I also found a lone green bean.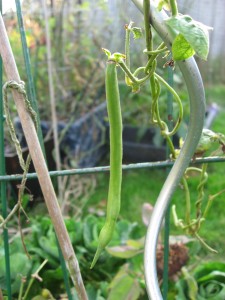 I munched on that guy, along with the tomatoes. To the gardener goes the spoils.
That weekend I also used the last of my tomatoes for one more batch of salsa. The tomatoes weren't going to keep and I still had those habaneros sitting around.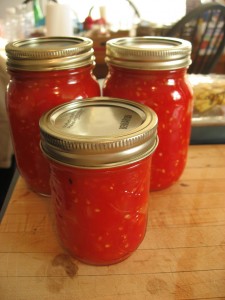 Small but mighty – only three jars, but this stuff is hot!
Weekend of October 23 & 24
The  next week Cory came down with a cold. But that didn't stop him from going computer gaming with the guys for Saturday afternoon/evening. I took advantage of the car being out of the garage to do a bit of cleaning up out there. Which is not very exciting or photogenic.
I also decided it was time to play with the dough hook on my Kitchen Aid Stand Mixer.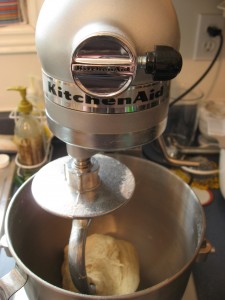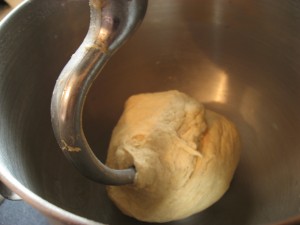 I made French Bread and pizza dough. For the French Bread, I used a recipe from the instruction book that came with the mixer. For the pizza dough, I used our old family recipe (the one we made every Sunday for so many years), but followed the method given for a recipe in the mixer book. They both came together really fast.
I need to work on my loaf forming skills, but it smelled like French Bread! It tastes pretty good too, though I don't think it was quite as fluffy as it should be. That could be due to the fact that I used Nutri-flour blend (white whole wheat flour) instead of white flour. I'll have to experiment a bit more I guess. But it was a productive afternoon.
By Sunday, I was feeling like I was coming down with Cory's cold, so I didn't do much. Did a bit more cleaning up in the basement – soon it will be time to start using the wood stove and we've still got lots of boxes that haven't been dealt with since we started cleaning out the storage closet at the end of May. I managed to clear a path to the stove on Sunday.
This week I've been kind of tired, fighting off this cold, but I think I'm on the mend. Looking forward to the weekend! Hopefully we'll both be feeling good by then.