When I was researching places to visit in Japan, and specifically Kyoto, Fushimi Inari Shrine was one of the first places that caught my eye. The colourful photos stood out, and it sounded so unique. It ended up being my favourite location of the day.
From http://www.japan-guide.com:
"Fushimi Inari Shrine (伏見稲荷大社, Fushimi Inari Taisha) is an important Shinto shrine in southern Kyoto. It is famous for its thousands of vermilion torii gates, which straddle a network of trails behind its main buildings. The trails lead into the wooded forest of the sacred Mount Inari, which stands at 233 meters and belongs to the shrine grounds.
Fushimi Inari is the most important of several thousands of shrines dedicated to Inari, the Shinto god of rice. Foxes are thought to be Inari's messengers, resulting in many fox statues across the shrine grounds. Fushimi Inari Shrine has ancient origins, predating the capital's move to Kyoto in 794."
We took a bus from Nijo Castle to Kyoto Station, and from there a local train to Inari. The guide books described the shrine as being a 5 minute walk from the station; beyond that we were not quite sure how to find it.
Turns out it would be hard to miss; we walked out the door of the station and saw the entrance directly across the street.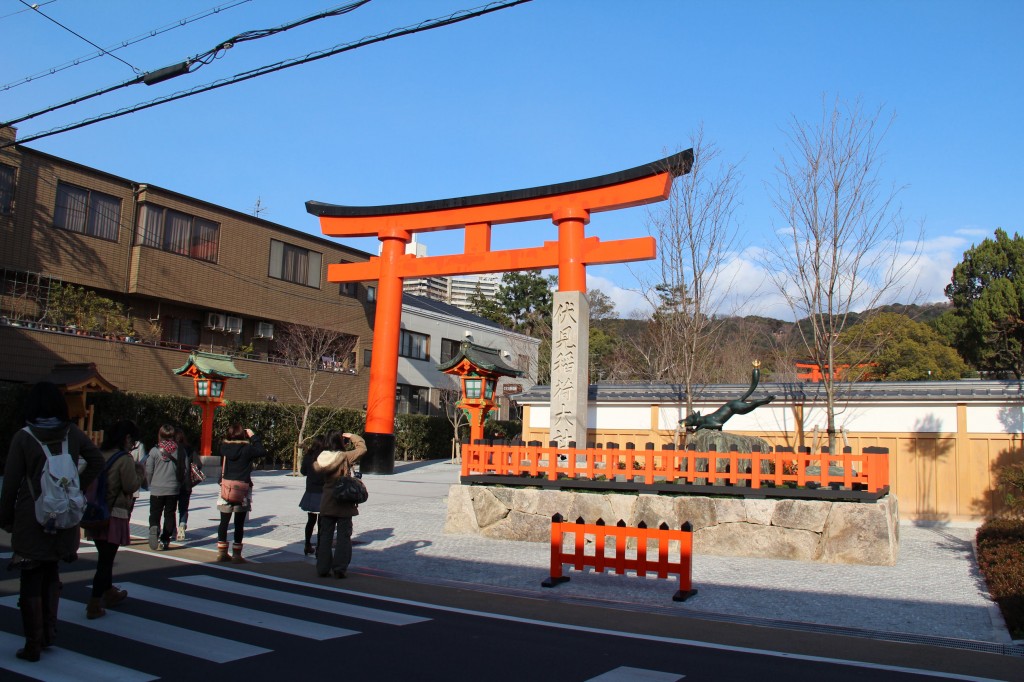 Obviously a popular destination, as there were many other visitors exploring and taking photos. We took our time approaching, but I'd say the 'five minute walk from Inari Station'  description is a generous estimate.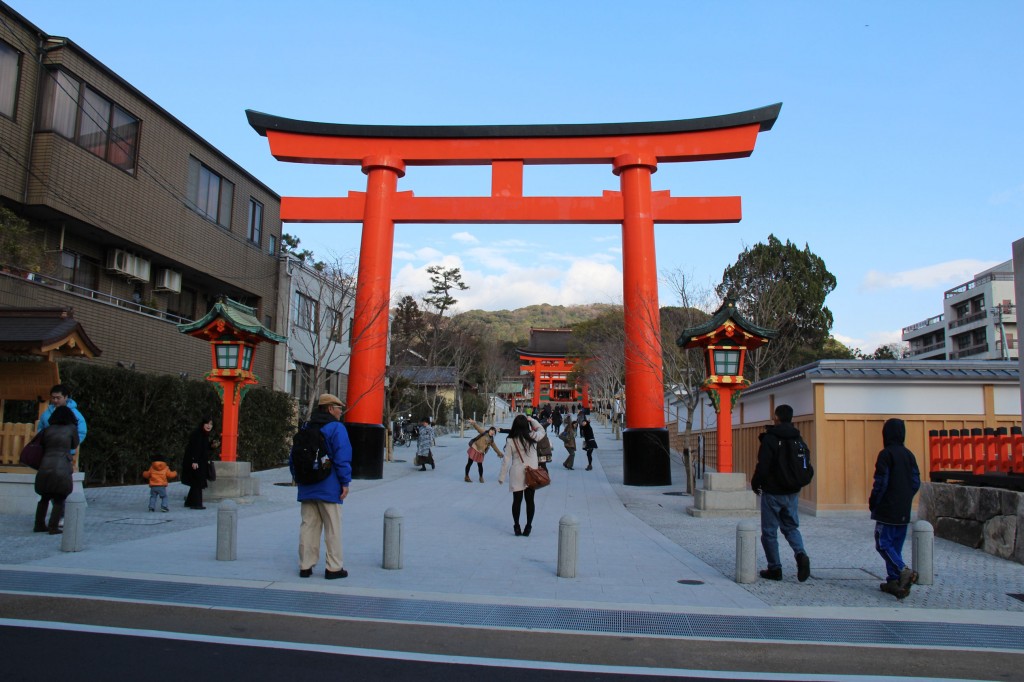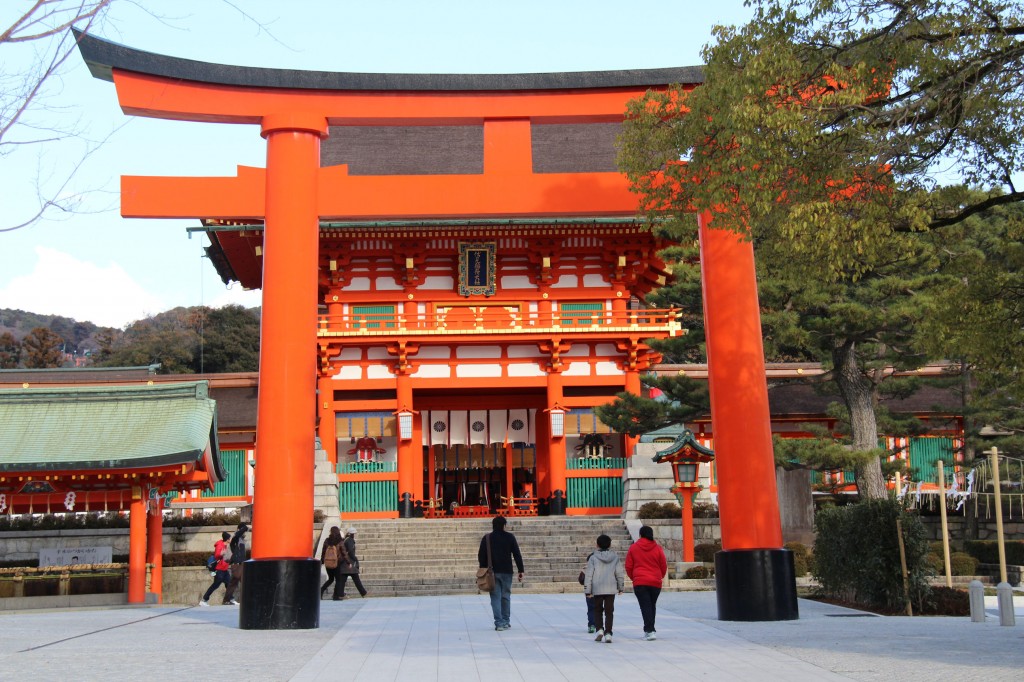 I also think this was the warmest spot we were in all day, which made it that much more enjoyable.
Through that gate, there are fox statues on either side of the stairs.
Up another set of stairs…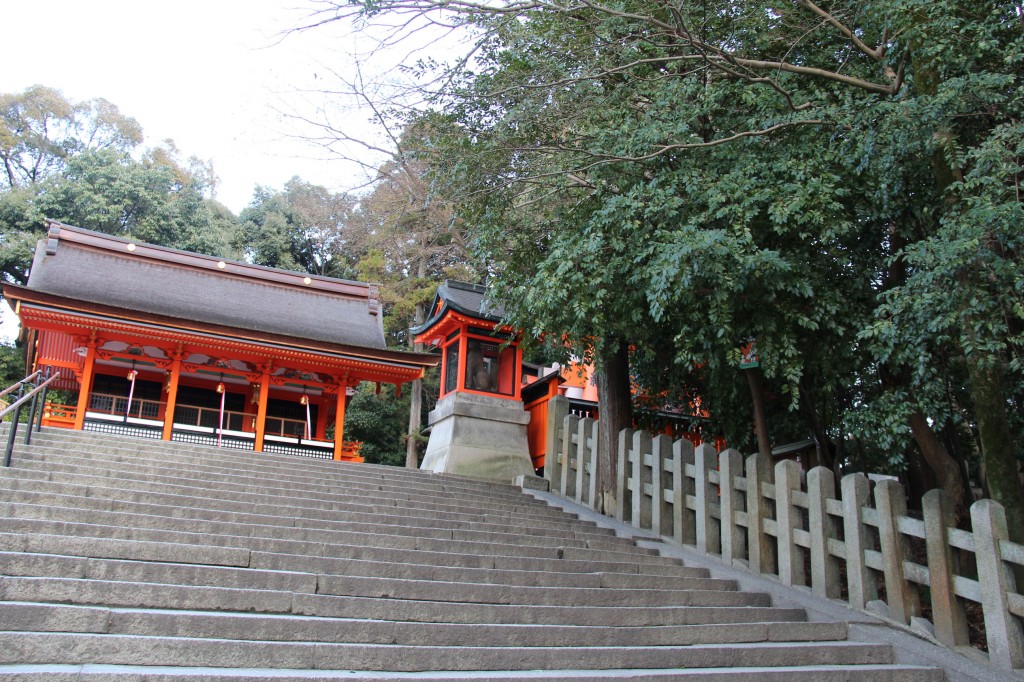 We came to the first set of tori gates.
The gates are grouped in sections. At the top of this one, there is a double set of gates. There were actually quite a few people around, but we hung back and waited, and eventually there was a lull where there was only the one man who was working just inside one set of gates.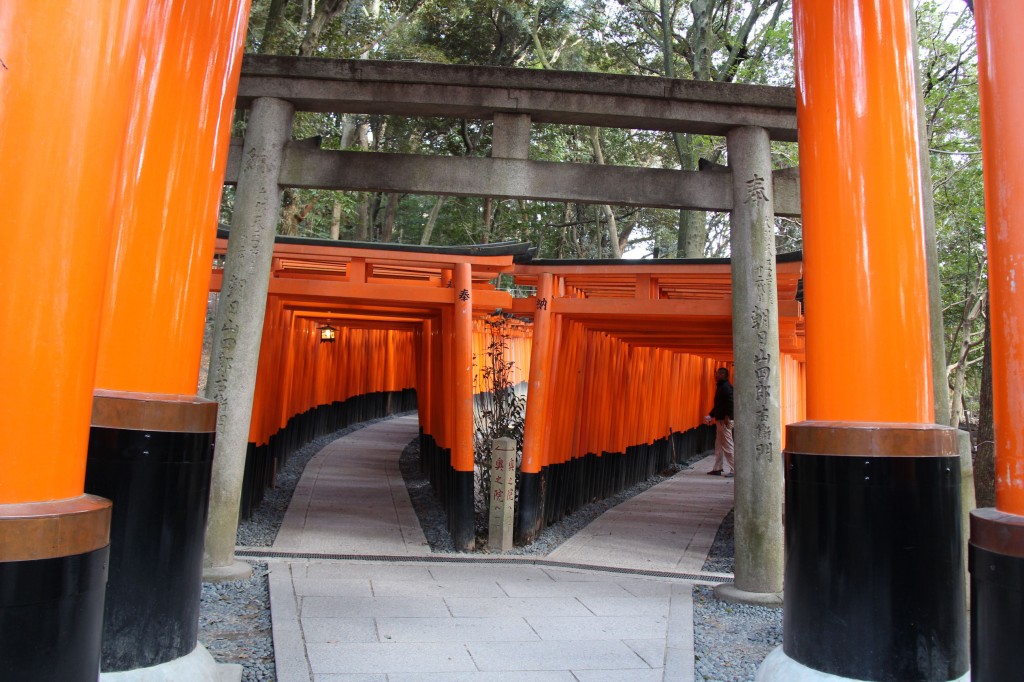 We took the left hand gate up.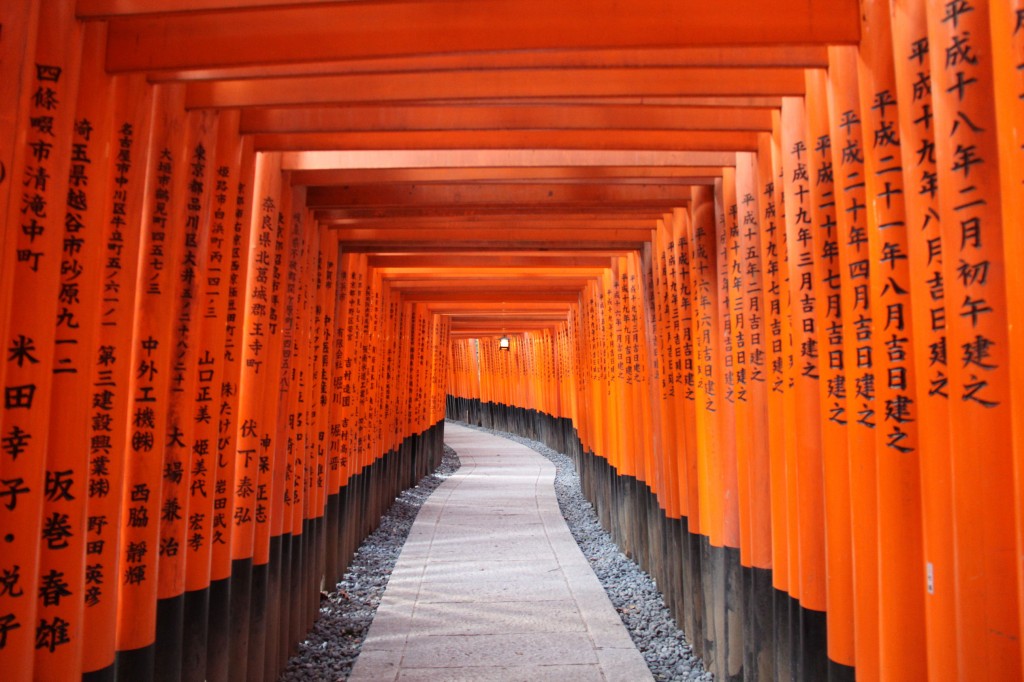 It was uphill, but a fairly gentle incline. We came out to a shrine area.
As I've said, there were people around, and we were basically only a few minutes from the train station, but we were in the woods and it was very peaceful. I didn't want to leave.
This is the entrance to the next set of gates.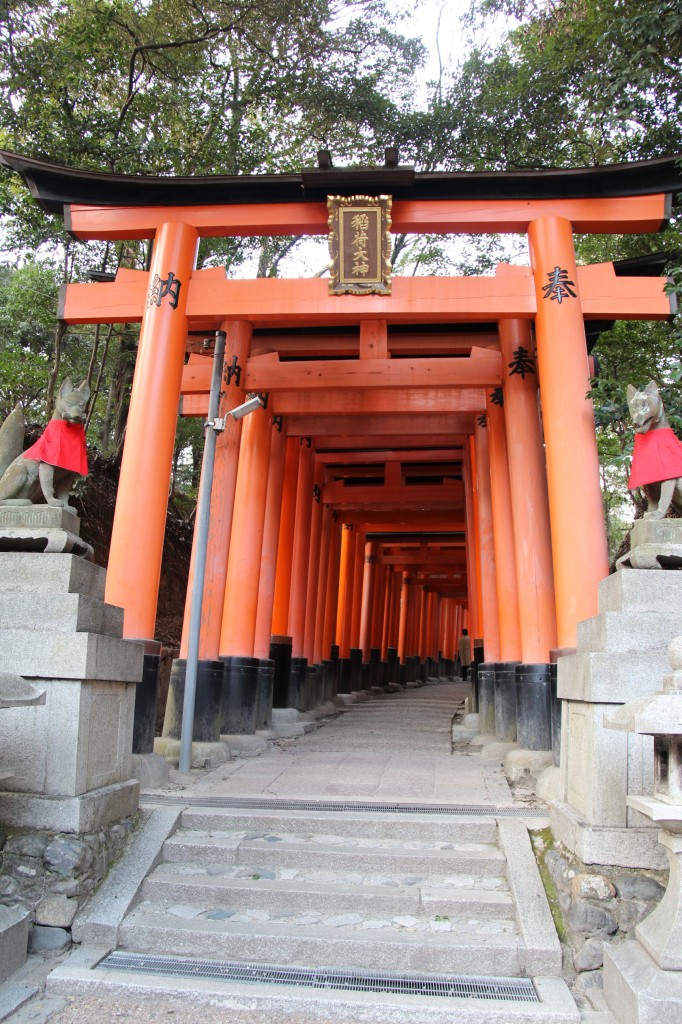 At this point, I felt like I could keep walking for a good long time and would have liked to go a bit further, but Cory was getting tired of walking. It was almost 4:30 in the afternoon by this time, and we'd been walking around all day, so we decided to head back.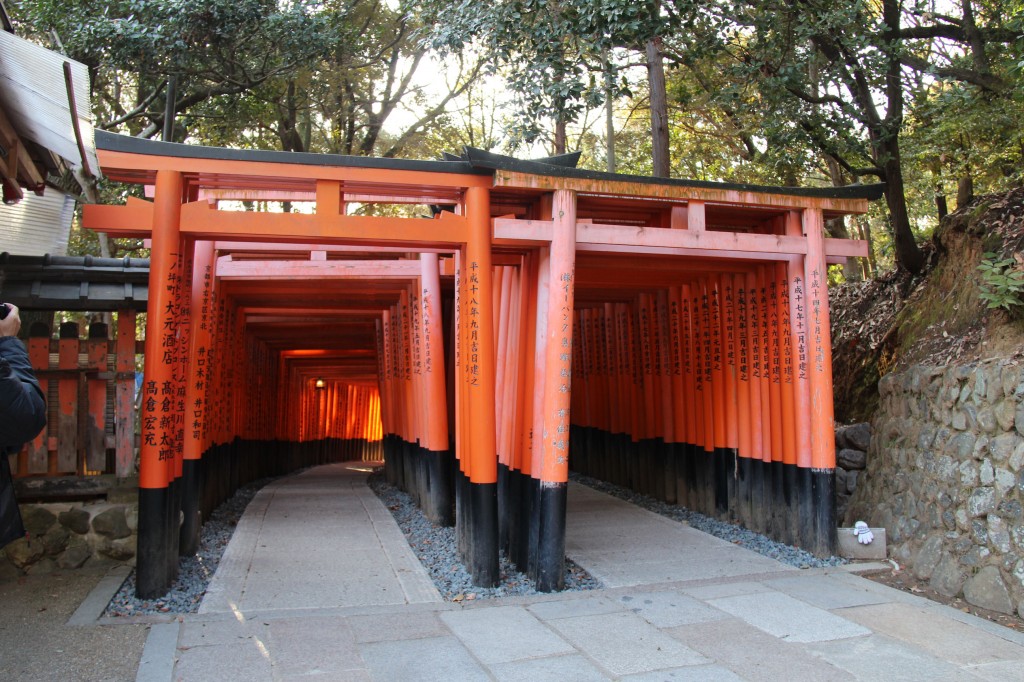 Looking down on the way we had come; we took the other trail on the way back down.
A view from the outside.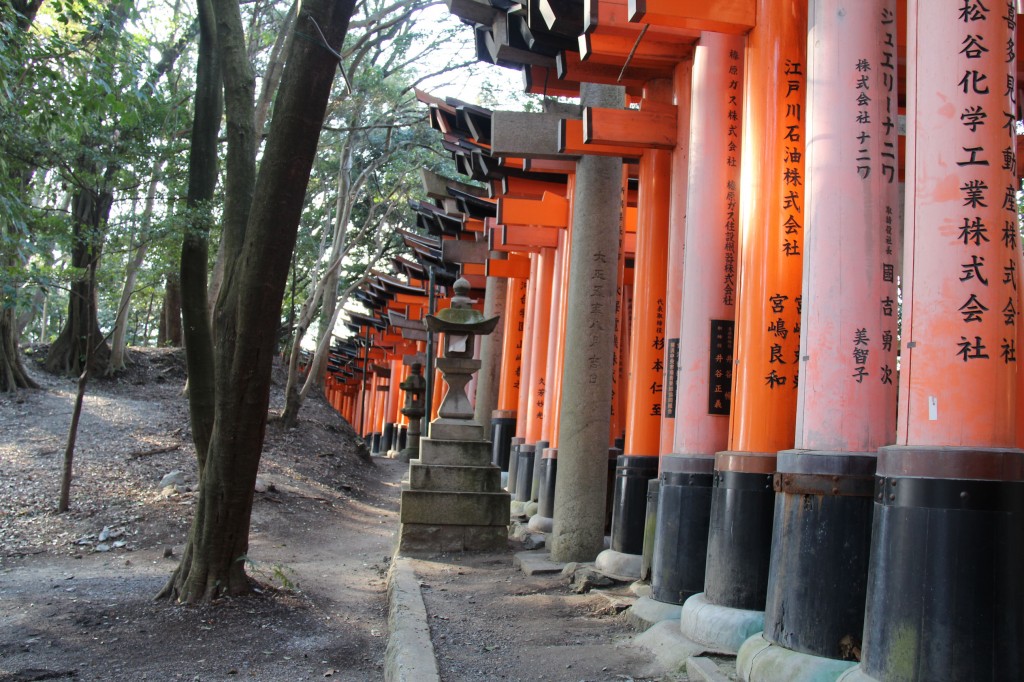 Headed back down toward town.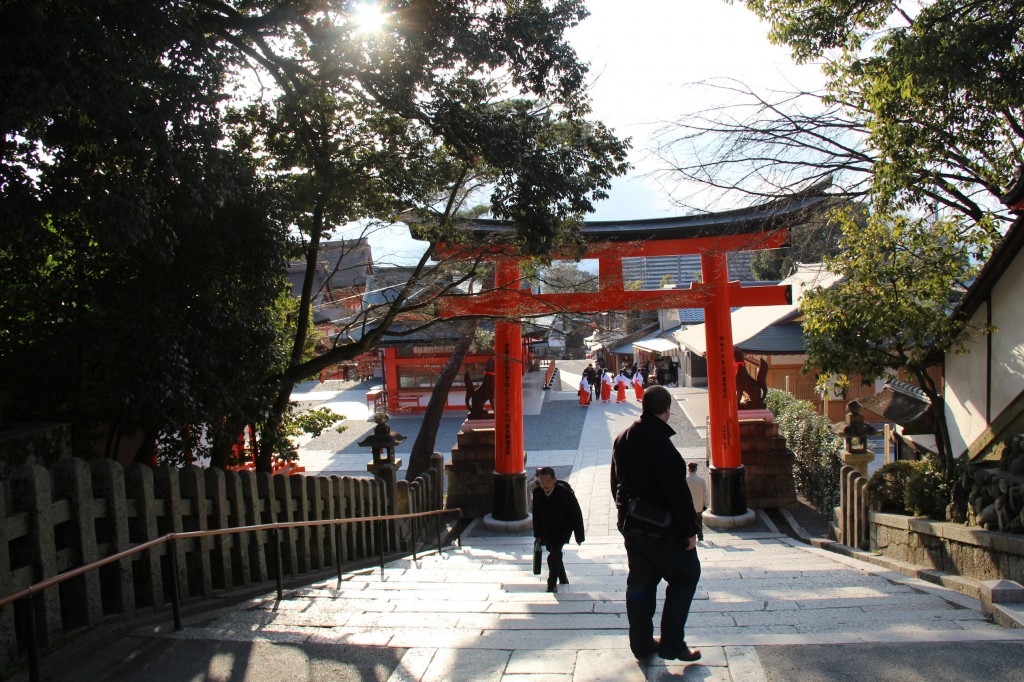 We wandered around a bit instead of heading directly back to the station. There were little touristy shops right below the entrance, and then other shops, etc, once we got to the narrow streets of town.
And here is where I wish I had written these posts sooner after getting home. I know this was my favourite place this day. Mostly because of the trails through the woods, with the tori gates, but I know I enjoyed walking around the town too and at this point I can't really remember details. I  suppose it blurs together with similar walks through other areas.
I do definitely remember our stop here for these little pastries – they tasted like pancakes with vanilla custard filling. They were warm and delicious.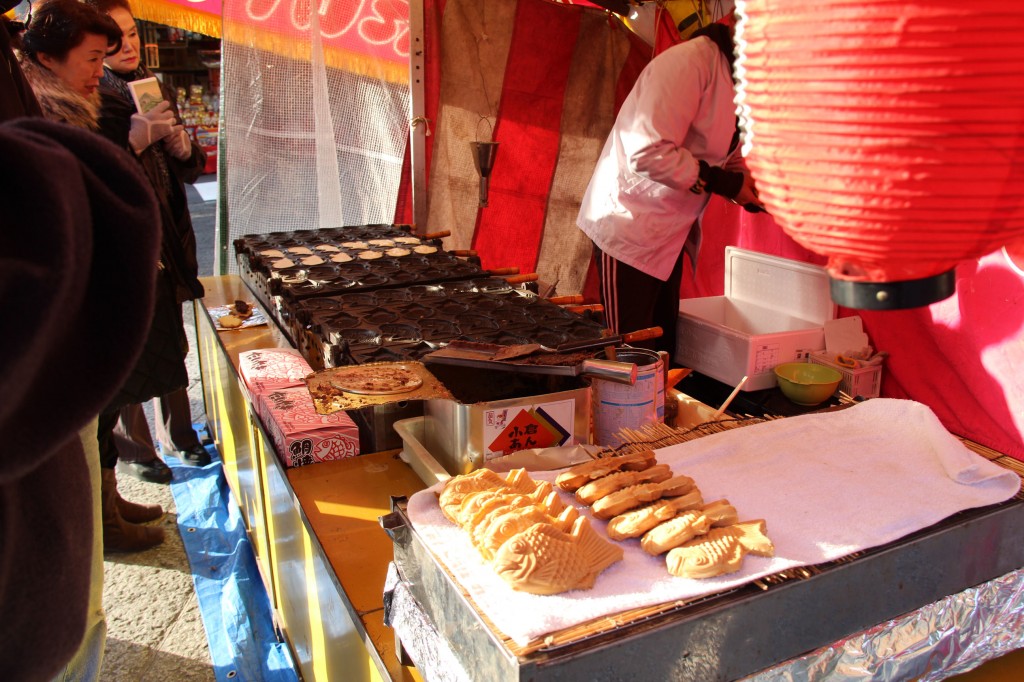 It was getting chilly again by this point, and we saw more snow flurries as we headed back to the station.
While I had been raring to go, to explore further through the walking trails of Fushimi Inari Shrine, by the time we took the train back to Kyoto Station, and a bus back to our hotel, I was exhausted. And then we started the 'what to do for dinner' all over again.
This was when we took our second walk through Cupola Sanjo.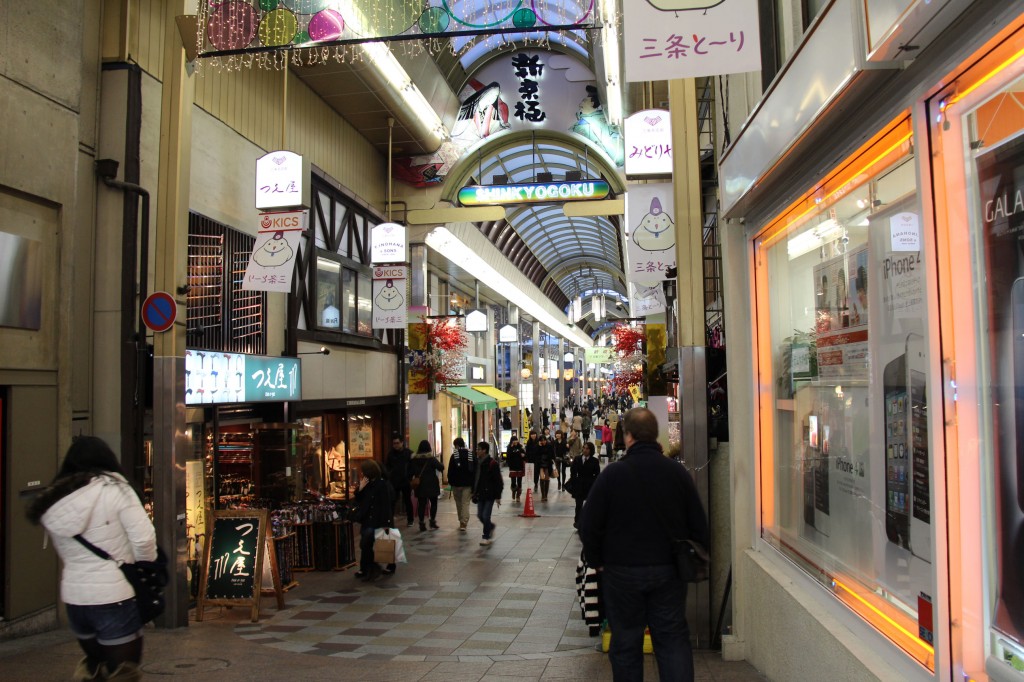 There were plenty of restaurants around, but trying to figure out where to go when you can't read the signs and you are tired and you just want somewhere comfortable to sit down and relax is not easy.
I wanted a salad. Our lunch, in the hole-in-the-wall restaurant near the Imperial Palace Garden had been tasty, but definitely a a little on the greasy side. I felt like I needed some vegetable matter.
We ended up going to Asahi, the restaurant I had noticed the night before, that I had thought looked so inviting. Asahi is a Japanese brewery and, as it turns out, they make excellent beer. The waitress did not speak much English, and the menus were in  Japanese, but they had pictures; we ordered everything, including the  beer, by pointing at pictures.
We did indeed have a salad, and an excellent salad it was. And I had pizza. It seemed a little bit wrong to be in Japan, having pizza and beer for  dinner, but it was so good that I really couldn't feel bad about it.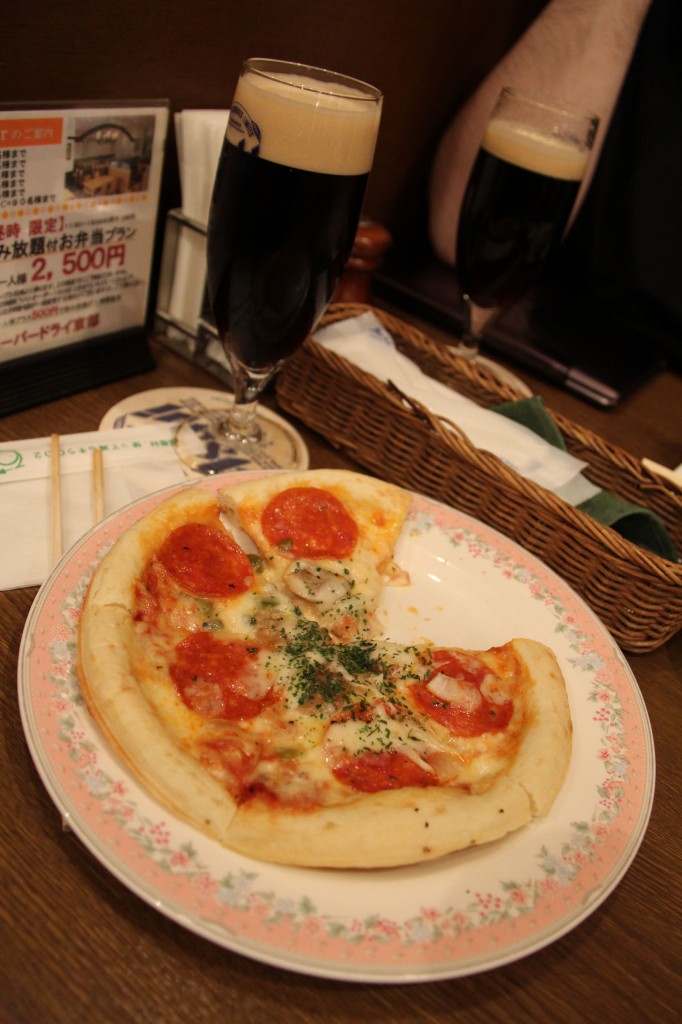 Asahi was almost right across the street from our hotel, so we ended up going back here the next two nights. We had a different salad each night, though the one we had the first night ended up being my favourite. After a full day of walking around, seeing the sites, we would top it off with dinner and excellent beer, and then I would fall asleep almost as soon as we got back to the hotel. It was pretty perfect. 🙂