May has been a rainy, rainy month; it feels like we hardly saw the sun at all. I've barely spent any time outdoors, I've not touched my veggie bed. All in all, I'm feeling a little spring-deprived. At least everything is green. 🙂
As a matter of fact, our lawn was starting to look like a jungle.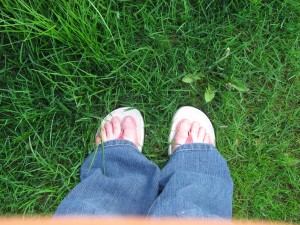 This was May 18, the Wednesday before the Victoria Day weekend. We had a rare sunny day, so I had to go out and have a look at things in the yard. The grass was long and the ground was squishing and squelching as I wandered around. Still, it was good to soak up some sun.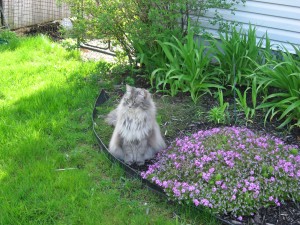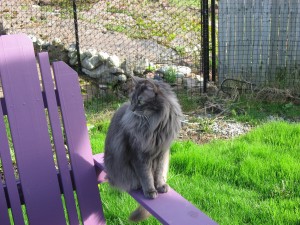 As you can see above, the phlox were starting to bloom and the forsythia bushes were showing some colour too.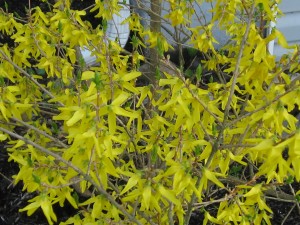 Glory of the Snow are showing up a little late, going by the name, but we'll take it.
The forecast for the long weekend didn't look very promising, but we did end up getting a sunny Sunday afternoon. Dad helped me get my potatoes planted for this year, and I put in a few plants that arrived from Vesey's on Friday.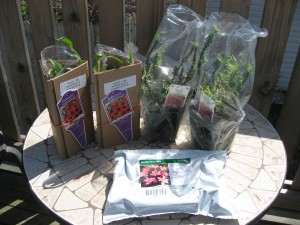 Two Summer Sun Echinacea and two Heather Allegro. The other package on the table was an extra bonus that Vesey's included – a package of Pink Fairy Lily bulbs. I haven't quite decided where to put those yet.
Our Cherry tree was in full bloom and looking purty.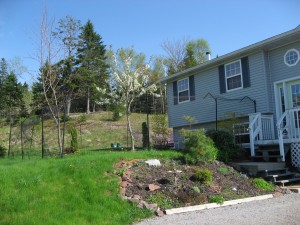 My bird bath with the little fairy got broken over the winter (I may have shed a tear over that), but I stuck it in the ground so I can still have it in my garden.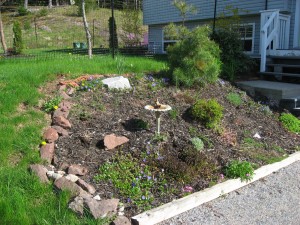 And Dad hung our new welcome sign (anniversary gift from Dad & Mom last winter – have been looking forward to seeing it all winter).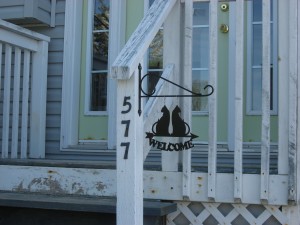 Since then we've had more rain, with the odd bit of sun. Yesterday and today were absolutely beautiful though – it feels sort of like we skipped spring and went straight to summer. Our lawn actually did get mowed last week, but the yard is still pretty wet. Hoping for some more sunny days to dry things up.
Addendum regarding the long weekend: The deer have indeed been munching on the new bunch of hostas. Sorry Mom! Maybe they will still manage to survive. Also, we did make the Beef & Asparagus rolls; we made a huge mess doing it but they turned out to be quite tasty. Thanks for the fresh Asparagus! 🙂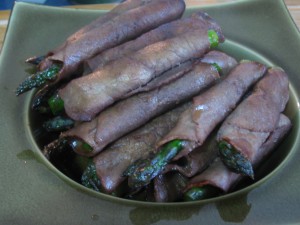 New closet is looking good too! Don't worry, we'll fill it up in no time. 🙂