A year ago today, Cory and I were in the middle of our Japan trip. I kinda wish I was there again now! Since I'm not, it seems like a good time to get back to all those photos I didn't finish posting last year…Which lands us literally one year ago; these photos are all time stamped evening March 12, which was the morning of March 13 in Japan. [Edit: Okay, it was the evening of the 12 when I started this…Didn't get to finish. This would be why I didn't get all this posted last year – it is time consuming!]
Japan: Day 4 ~ Tuesday, March 13, 2012
Most days on this trip, we weren't in a rush to get anywhere. It was only two of us, we didn't have to worry about meeting up with anyone, we had no particular schedule…Except the train schedule.
On this day, we planned to travel to Okayama, then back track to Himeji, then back to Kyoto. We needed to get an early enough train to Okayama to make this work, so skipped breakfast at the hotel and headed straight for Kyoto station. We would make sure we got tickets for an early enough train, then grab some breakfast at the station. What we did not expect was that we'd get a departure time that was only a 20 minute wait. We decided the thing to do was locate our departure platform, then grab some breakfast…Except it took us 15 minutes to find the right platform.
Kyoto station felt like Tokyo station condensed into a smaller space. It is a smaller station, obviously. It doesn't have so many trains coming in and out. It also is much more crowded together and the signs are smaller and the English is less visible. It was an adventure, okay? A bordering on panic adventure.
We found the platform with 5 minutes to spare. We found the spot where our car would stop (we thought). There was a little convenience store like establishment, so we went in to look for something to eat. Cory grabbed a mystery sandwich. I'm not a fan of mystery food –  I don't mind trying new things, I just like to know what I'm trying – so I decided to pass. While Cory was paying for his sandwich, the train arrived. So we had to rush and we had misjudged the spot somehow. Trains in Japan are on time and they don't stop for long. So we had to run, jump on, and then make our way to our compartment. But we made it.
Cory had his sandwich. I had coffee and a bag of mixed nuts from the refreshment cart when it came through. We sat back and relaxed. We were safely on our way.
We arrived in Okayama, and went to a coffee shop where we had a real breakfast. I enjoyed the sound of the the Japanese shop girls working in the background. I don't know what it is, but I just loved hearing that whenever we went into one of those places. They always sound so cheerful.
We found tourist information, we got on a bus, and we were headed for Okayama castle.
The nice thing about castles is they tend to stand out. Okay, Nijo castle in Kyoto didn't, but on this day the castles were easy to find. Cory saw the sign from the bus, so we got off and started walking. Next thing we knew, there was the castle, off in the distance. No way to get lost!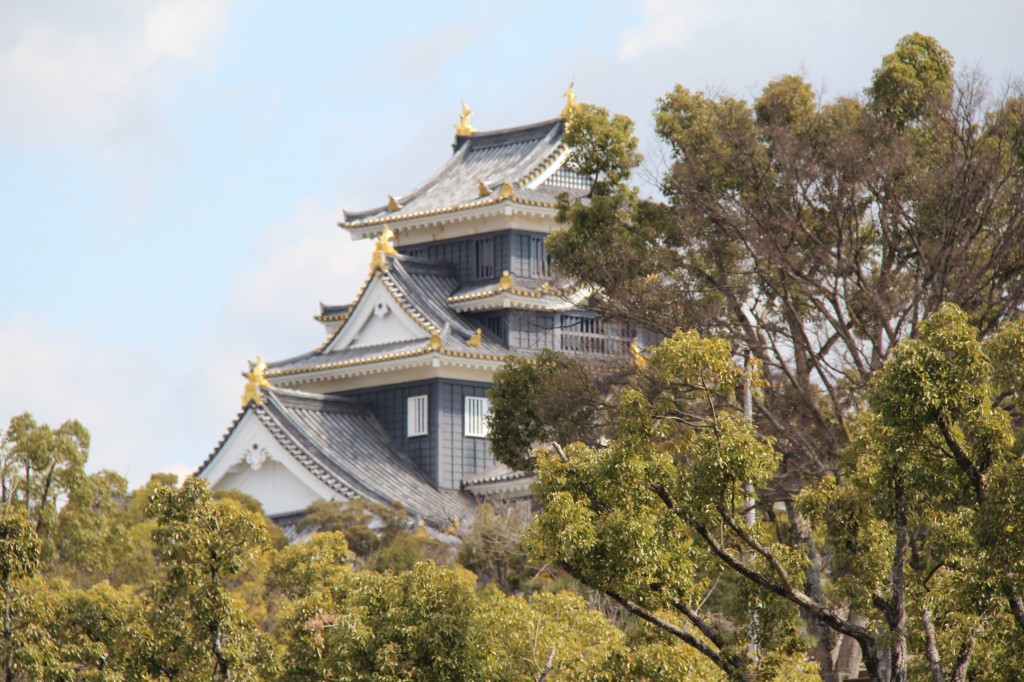 Okayama Castle, also called Crow Castle because of the dark coloring.
This was taken from a gas station that was in viewing distance. We stopped at the rest area on the back corner of the gas station. There was a picnic table, and vending machines (of course), so we had a little water break before venturing the rest of the way.
From the gas station, we could also see the moat around Okayama Castle.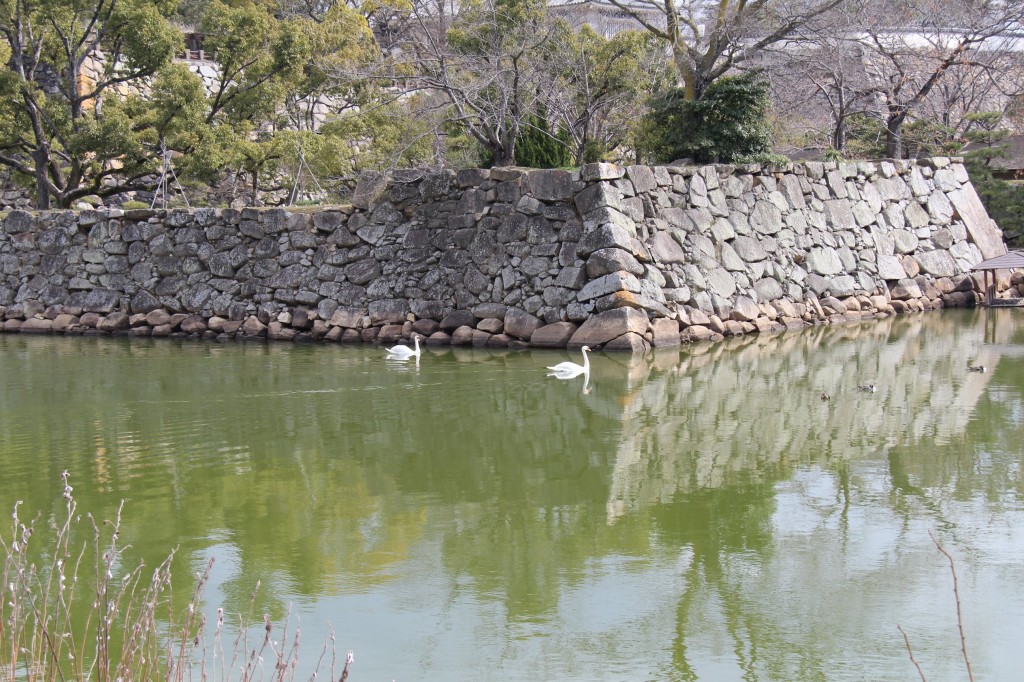 After our break, it was just a short walk to the castle. And then a little climb.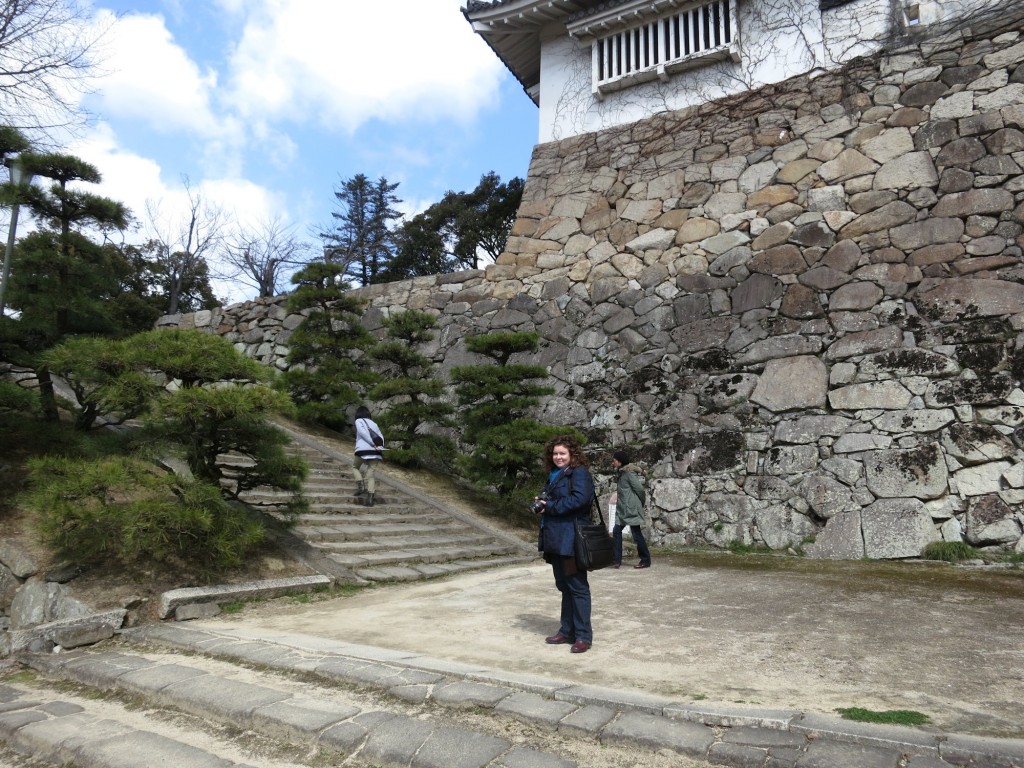 There was a cat! He wisely stayed put; there were a lot of steps.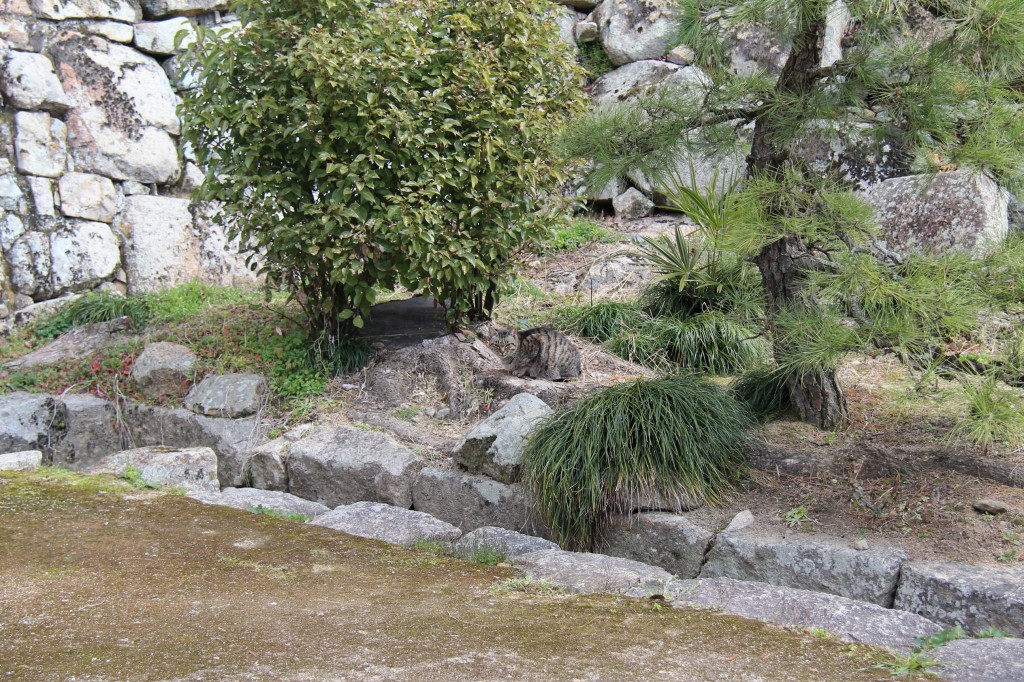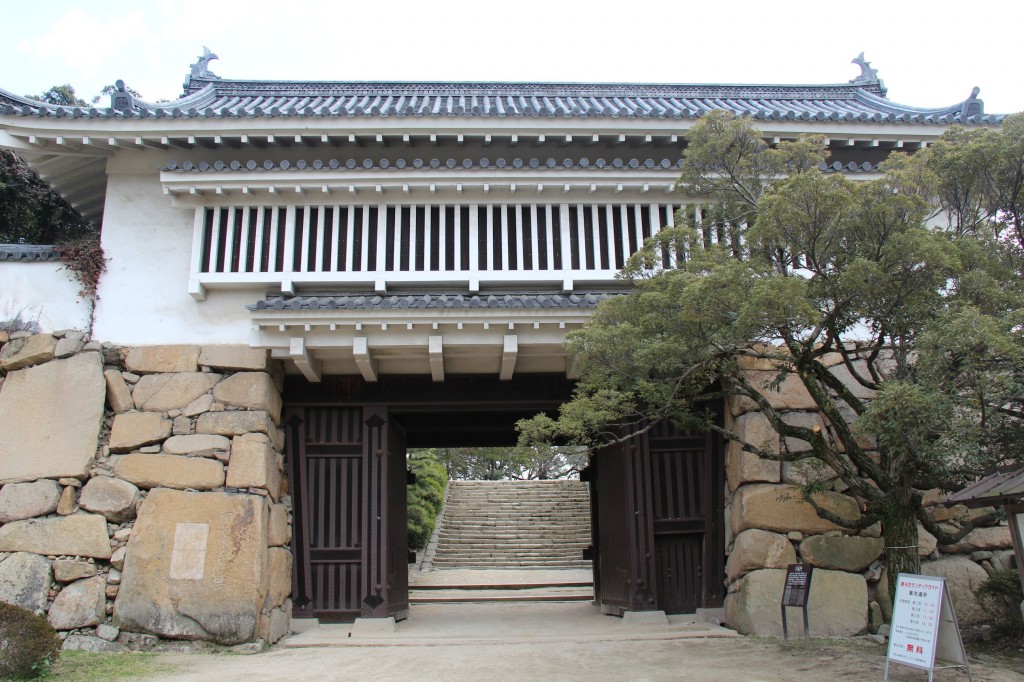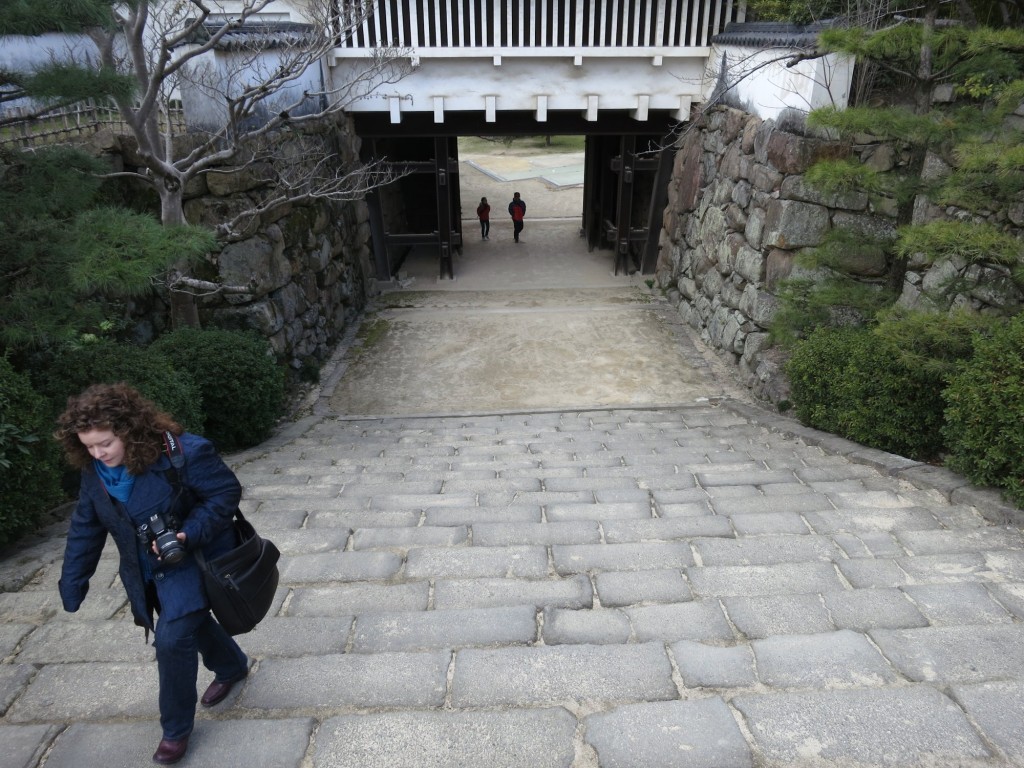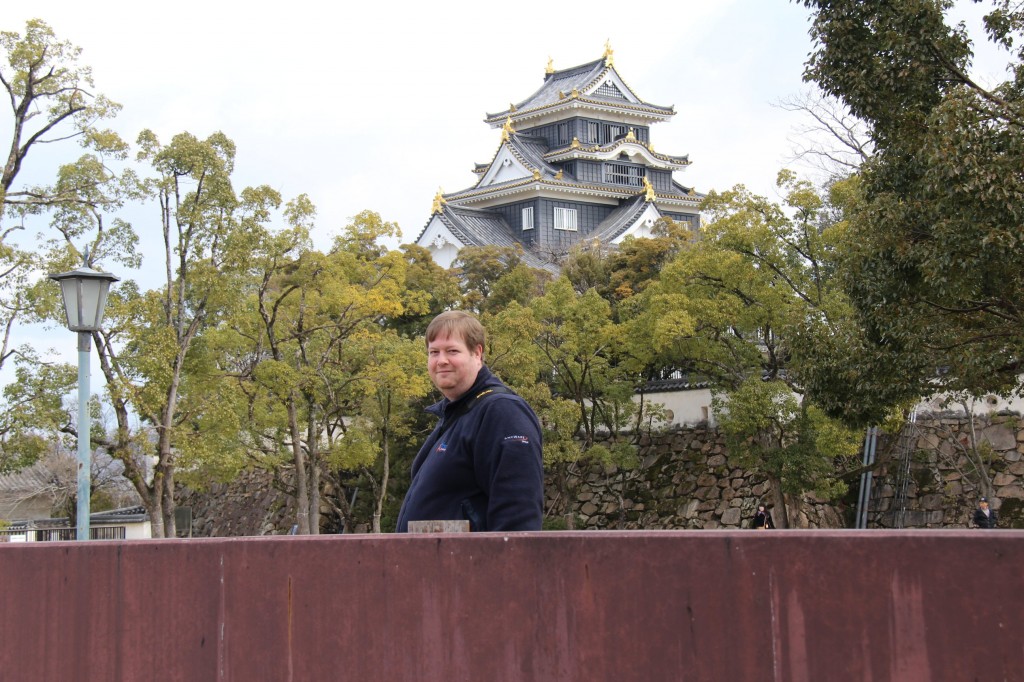 We wandered around the grounds for a while, checking out all the signs and plaques…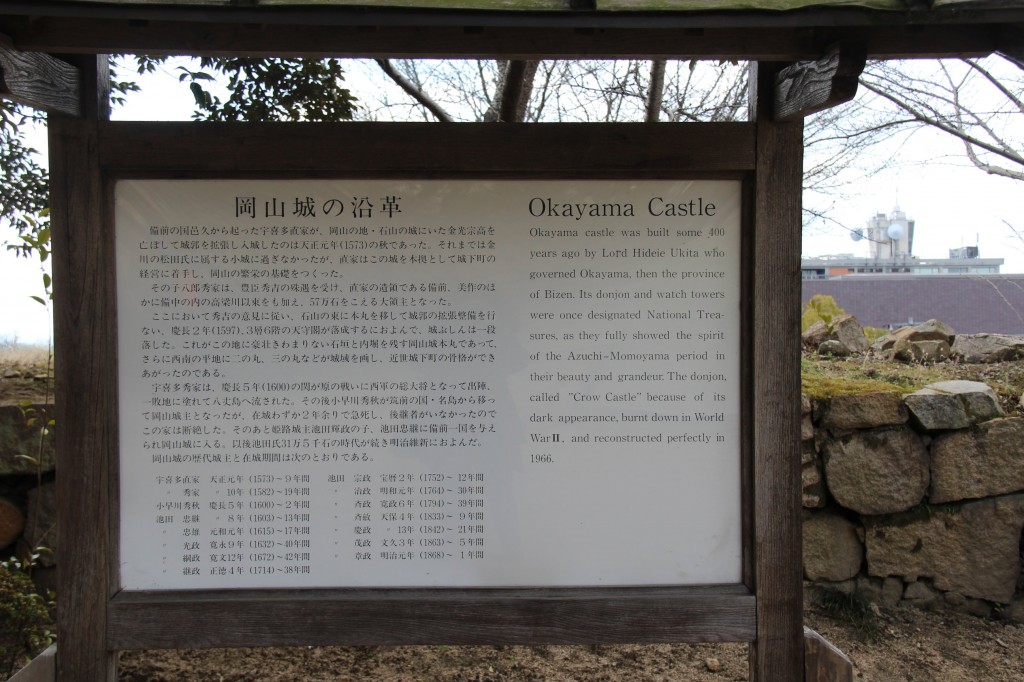 then realized that we were running short on time. So we paid our admission and toured the inside of the castle pretty quickly. We went all the way to the top…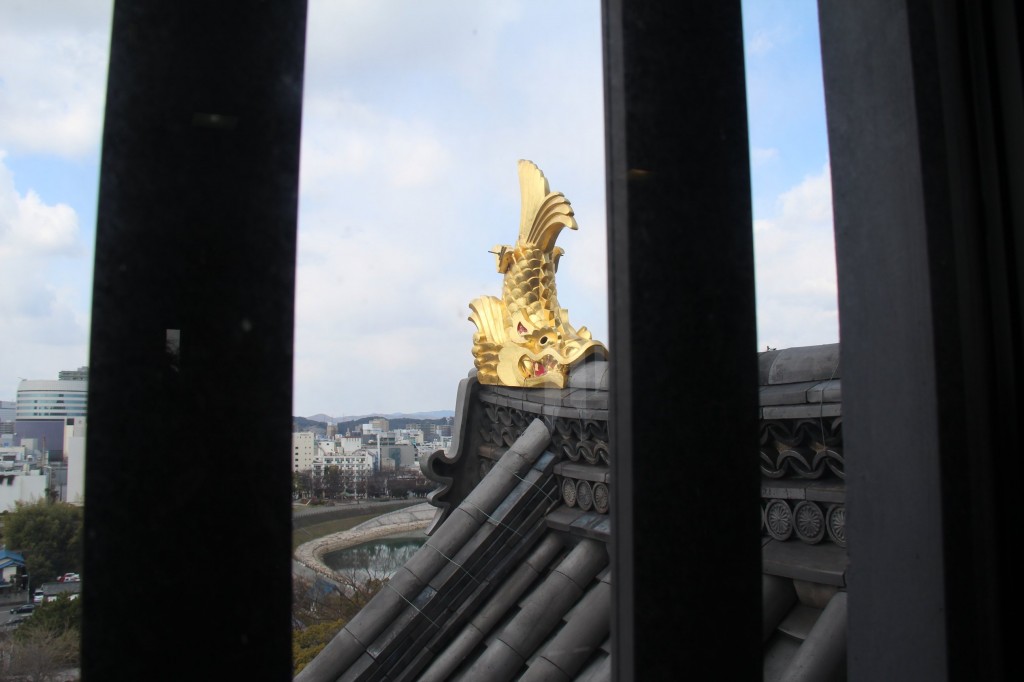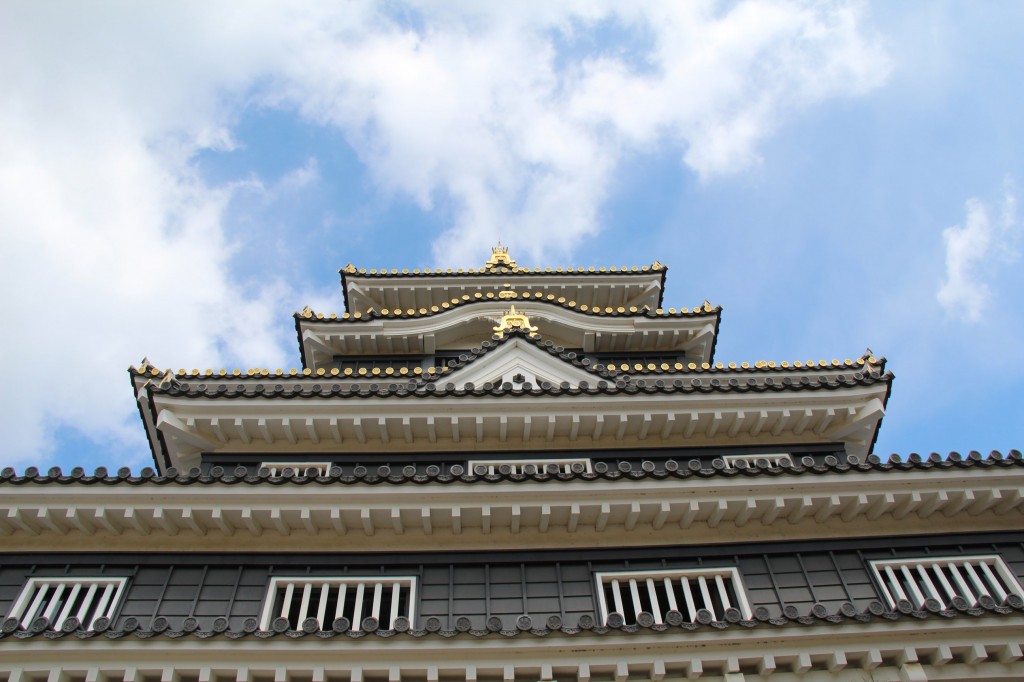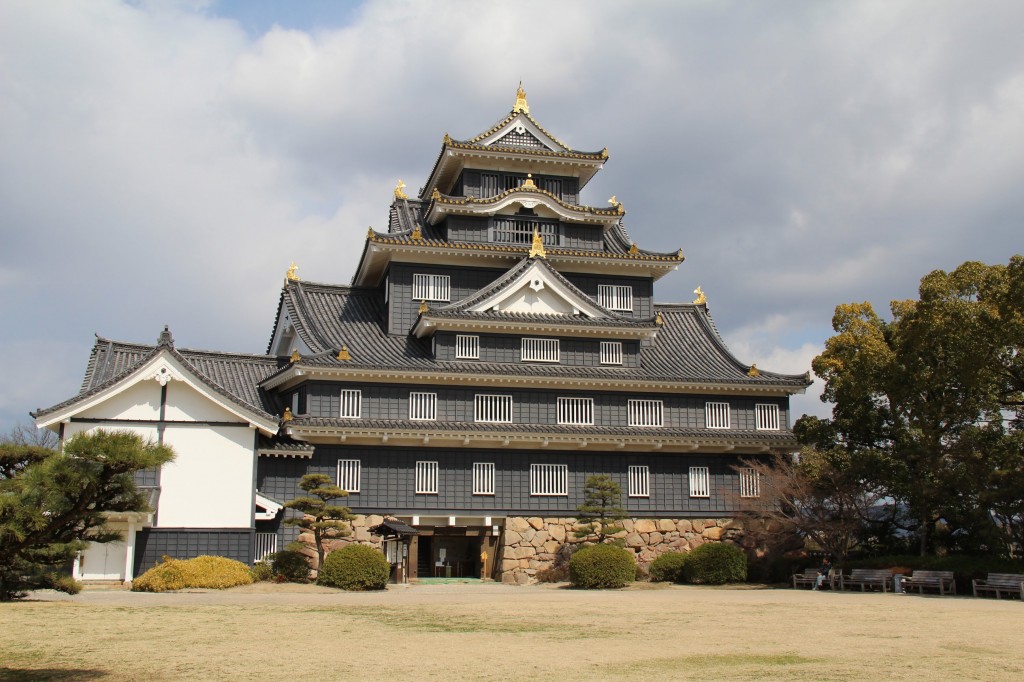 And worked our way back down. Unfortunately we did not have time to tour the gardens. That will have to be saved for the next trip. 🙂
We walked back the way we had come, and when we reached the gas station  there happened to be a cab sitting there, so we hired the cab back to Kyoto station – and chatted with the driver who was quite interested to hear where we were from, and what we were seeing while in Japan.
We grabbed lunch to go at yet another coffee shop, and got on the train headed for Himeji.