We finally got some rain. Cory drove me to work in a downpour with thunder and lightning this morning. The rain kept up for most of the day, but it was over by the time I got home from work.
I put up two bird feeders on the weekend. Many a day have I stood at my living room window, watching birds flit around on the fence and in the cherry tree. I was excited to finally get bird feeders! Of course, suddenly it seemed like there were no birds anywhere. When I finally saw one today I was all excited. Here's hoping he tells all his friends!
We made our first Farmer's Market run on Friday night. We picked up our first baskets of tomatoes and peaches – two of my favourite things – and a load of vegetables for Hodge Podge. I made my first batch of salsa this weekend – none too soon because we are down to a few jars – and tried my hand at making zucchini pickles. Dad & Mom brought us a load of veggies from the garden when they visited, and somehow the zucchini got lost in the fridge. I figured we'd never be able to get it all eaten, so I found a recipe for Spicy Zucchini Pickles. I've never made pickles, never even though of pickled zucchini, but hopefully they will turn out okay.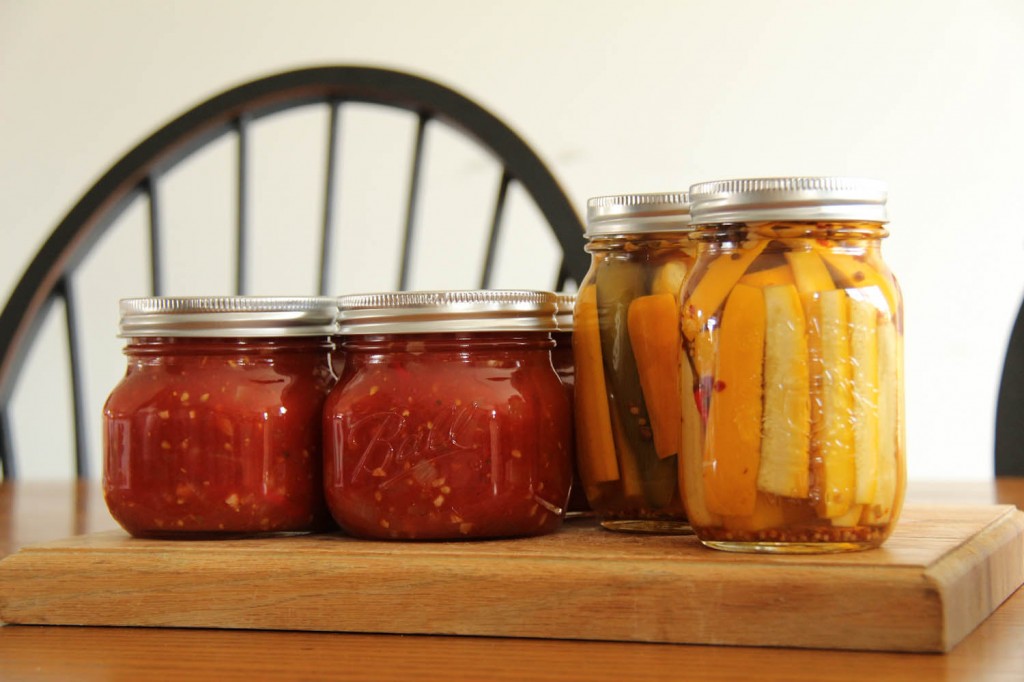 The weekend was busy, what with the shopping, salsa making and pickling.Then last night Cory was late finishing work, and we were meeting with our new pet sitter, so we finally got around to making the Hodge Podge tonight. Cory put me in charge of of the carrots and told me to chop up as many as I thought looked good. Obviously he forgot who he was talking to. He kept saying "Is that all? A few more!" The carrots did smell good though, so I helped myself to some raw carrot sticks, since that's the only way I like them. It was strangely satisfying to be standing there, in my apron, chopping carrots with my chef's knife though.
More spoils from the weekend…We were at Home Depot and they had patio tomatoes marked down. Cory said we still had some space, did I want to get a couple? I think I love him!
So our patio is now officially full of tomatoes.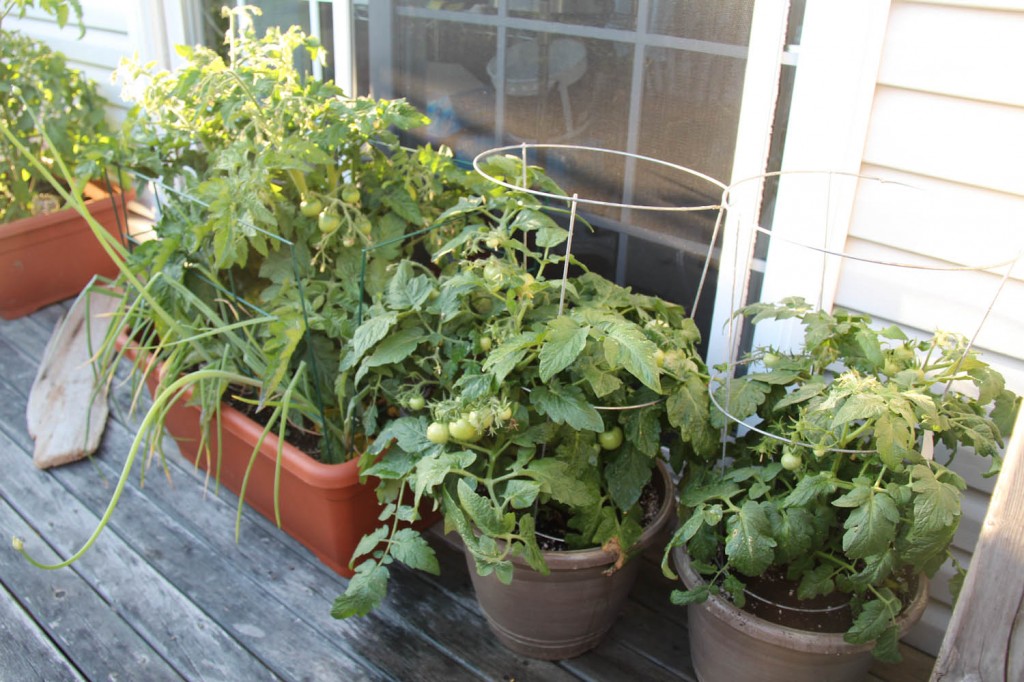 See all those green ones? More salsa, just around the corner!