I think it took us all of an hour to fall in love with Kyoto.
But let me back up a bit.
This trip first became a possibility in November, when Cory went to Japan for the first time. Once he was pretty sure he'd be going back, we started looking at things to do in Japan during late winter and early spring. Kyoto stood out to me from the beginning, but knowing we'd want to see as much as possible if/when our trip happened, I continued to look around at other places.
Once we actually knew the trip was happening, we only had a few weeks to plan our 7 day itinerary in a way that would make the most of our opportunity. In a couple of marathon phone conversations, me here in Saint John and Cory in Akita, Japan, we decided that it made the most sense to plan 4 nights in Kyoto and see what we could from there. The only thing bad about that decision turned out to be that we wished we had more time.
I don't really have a lot of day 2 photos, and the ones I do have are maybe not all that exciting. However, I do have this need to tell stories in order, so you'll just have to indulge me for now.
Sunday, March 11
Notice how I'm adding the day & date to each of these posts? Most of the time on this trip I never knew what day it was unless I stopped to think really hard about it. I identified the passage of time by knowing: this is the day we go [insert destinations here]. This is the day we went to Kyoto.
On Friday, we had managed to arrive at Tokyo Station along with the after work crowd. At 10 am on a Sunday morning, things were a lot calmer. We were there way earlier than we needed to be – after Friday's experience we weren't sure how long it would take us to find our way around and get our tickets. It didn't take long at all, so we ended up sitting down at Starbucks to wait for an hour or so.
Then we went to pick up a couple Bento (box lunches) and find our train platform. Which also took way less time that we thought, so we did some more waiting around.
We had a good view from our platform. This picture really captures my impression of Tokyo – clean and shiny and new looking.
More mountain views on our way to Kyoto, as we enjoyed our lunches. We both had Tonkatsu, which was one of Cory's favourite dishes in Japan. Side note: We found bottled Tonkatsu sauce at the Korean grocery yesterday when we went to stock up on Soba noodles, so tonight we made Tonkatsu at home using this recipe which turned out really well.
I knew before I went that there were mountains in Japan, but I didn't realize just how mountainous it is – everywhere we went, it seemed we were surrounded by mountains.
We had a 2h 40m train ride, which was relaxing. I found the time usually flew by, even though I mostly just sat and looked out the window. A comfortable way to travel and see the country side.
Then we arrived and things were not quite so relaxing. It would have been mid-afternoon on Sunday, but Kyoto train station was very crowded and busy. It felt like Tokyo Station crammed into a smaller space. I was following Cory around, trying not to lose him and it seemed like he was wandering in aimless circles; I think he was actually looking for the Kyoto Tourist Office but at the time I didn't realize what he was doing so I was just following along feeling confused.
This was probably my worst day in Japan as far as how I was feeling. I had woken up really early (like 4 am early) and never really got back to sleep. Early on I felt okay, but by this time I was starting to to feel so great.
We finally went out and found a taxi. Our hotel vouchers from the travel agent had the address of the hotel, our reservation information, and also a map in Japanese. I had photo-copied the maps, and in Tokyo we had been able to show the map to our taxi driver, say the name of the hotel and we were on our way. What we didn't know was that our hotel in Kyoto was so new it was not on the map that was included on the hotel voucher. So the taxi driver got on the phone, trying to figure out where we wanted to go and we were looking at the address trying to pick out what might be useful. We finally landed on Sanjo Dori which turned out the be the street name – for as long as I live I may never forget that our hotel in Kyoto was on Sanjo Dori.
Finally, we started to actually drive to our hotel. We went through some areas that were much less shiny looking than Tokyo. I admit to having an 'Oh my! Where have we come to?' moment. We got checked into our hotel and took our things to our room. Turns out we were both having the same thought: Kyoto is so much more Japanese.
We decided to go out and look around. And that was it, we were in love with Kyoto. We had only to walk out the door of the hotel and we were in the middle of things. People, shops, restaurants, the odd shrine tucked in here and there. There was a shopping arcade, Cupola Sanjo, diagonally across the street. It just felt like: this is Japan. I don't know how else to say it.
We saw this shrine almost right away. We saw many later on that were smaller, less elaborate, less colourful. This is actually inside one set of entrance doors.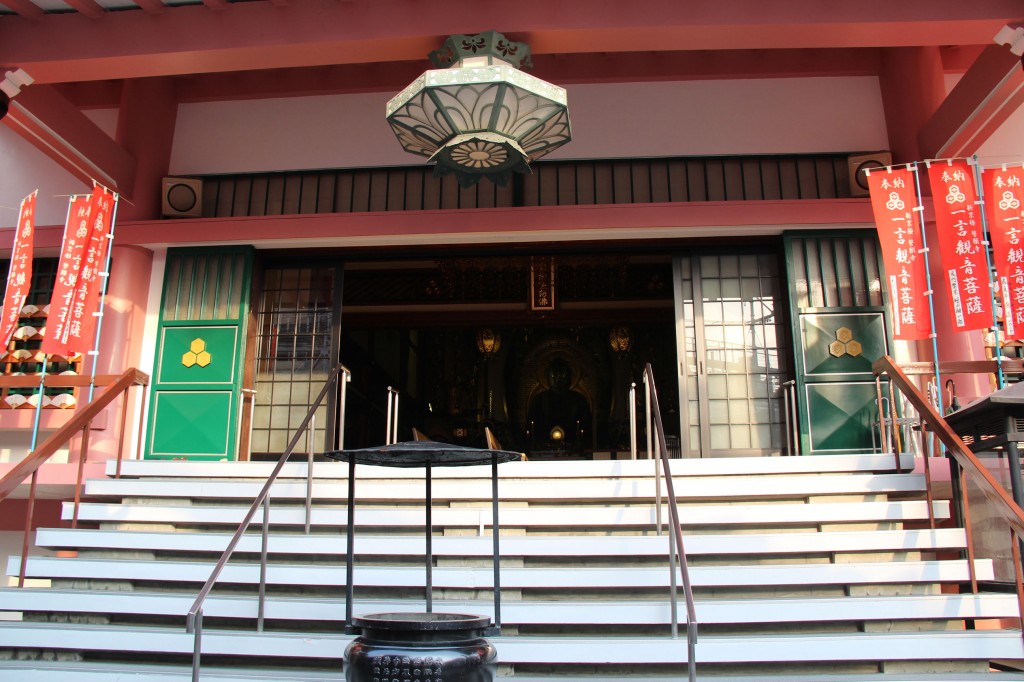 I wondered if they minded tourists coming in and taking pictures, but then there was this just inside the first set of doors, so it seemed like pictures were okay.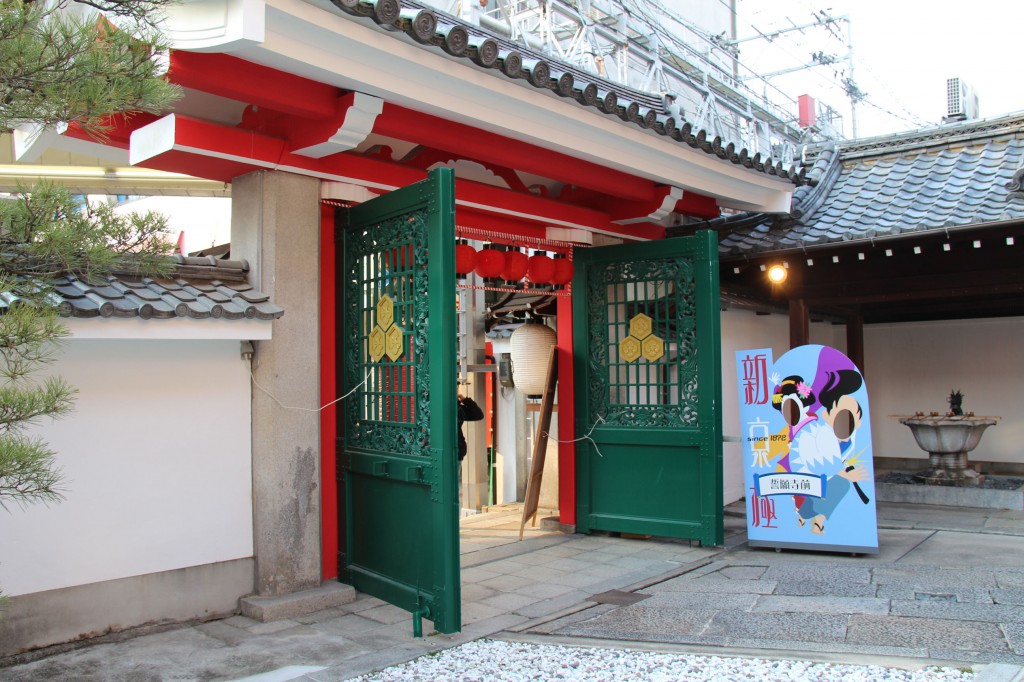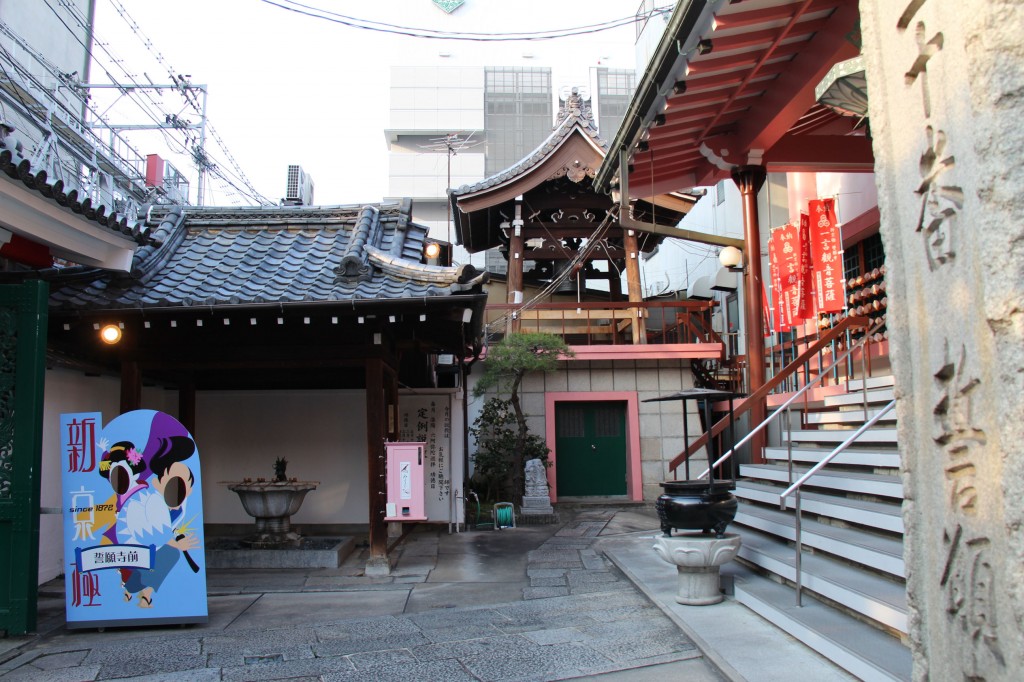 We spent quite a bit of time walking around, starting from Cupola Sanjo which was packed with people. I didn't taken any photos that day, but the next afternoon we went back for some more exploration and I quickly took this one shot:
There are definitely places & things on this trip that I wish I had taken more photos of – this would be one of them.
One of the other things would be the displays out in front of the restaurants. We were out wandering, soaking in the ambiance, but we were also keeping an eye out for somewhere to eat. Almost all of the restaurants would have either pictures of their food, or plastic models – sometimes with English descriptions, sometimes not, depending on where you were. That was how we had to try and choose a place to eat – which restaurant has the best looking plastic food?
Unfortunately by this time I was feeling kind of nauseous and most of it wasn't looking good. We did walk by one place that I liked the look of – not based on the food so much (I'm not even sure we looked) but it had big windows so you could see in and it just looked like a comfortable place (ooh…foreshadowing). The hotel had an Italian restaurant, so we ended up going back there where I had gingerale and pasta and Cory had an excellent steak and wine.
In our wanderings we had seen a bunch of dessert places really close to our hotel – I was amazed by the number of cafes, pastry shops, dessert restaurants in Japan; apparently they like their sweets – so we did go back out for dessert. Cory had a frozen yogurt with tropical fruit in a waffle bowl, and I had a strawberry cream cheese crepe.
After dessert we stopped at a convenience store to buy bottled water, then went back to the hotel.
At both our hotels I found the entrances really understated – just sort of squeezed in with everything else. The black sign with the white vertical writing to the left is the entrance of our hotel. I actually think that yellow sign on the right might be where we had dessert.
Both of these photos were taken as were were standing at the cross walk, waiting for the light to change, so this is not the best view but that archway with the pink neon stripes is the entrance to Cupola Sanjo. As you can see, not far from our hotel.
And these photos were actually taken on our last night, but I thought it made sense to include them here – this is our hotel room in Kyoto.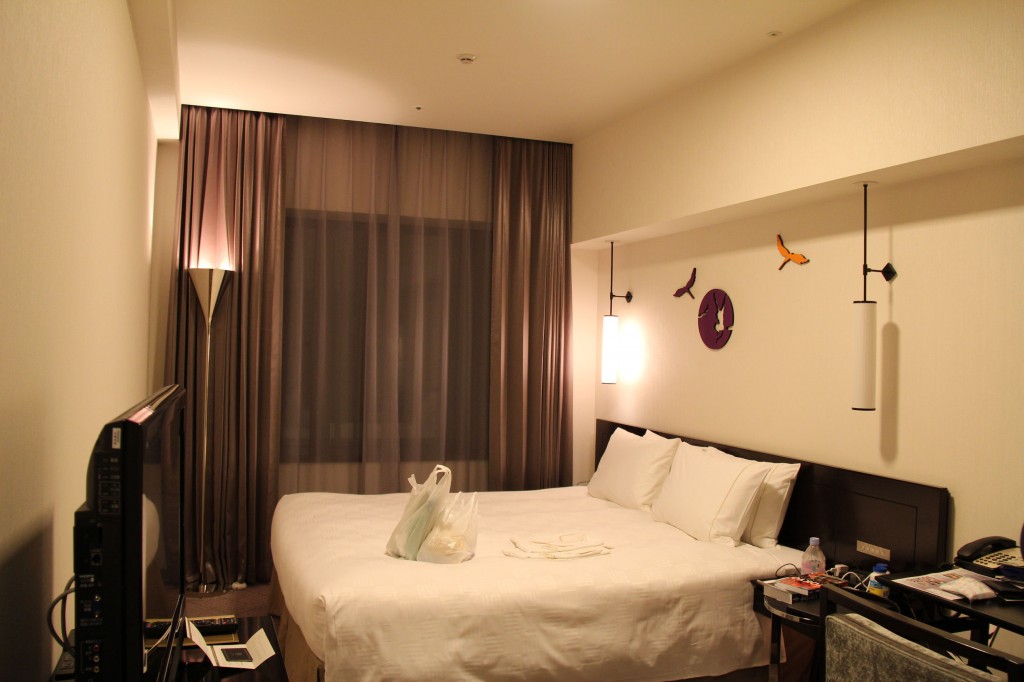 Our first two nights in Tokyo, our room was a standard double (two beds) and the room was quite spacious. While I get the feeling that this is a large room by Japanese standards, by North American it was definitely small. There was a little closet to the right of the desk in to bottom corner, which fit my suitcase. I had to make sure I had what I wanted out of it, because once it went back in there it was not so easy to get it back out. Cory's suitcase wouldn't fit in, so it was in front of the closet.
In the bathroom, there was room to stand and that was it.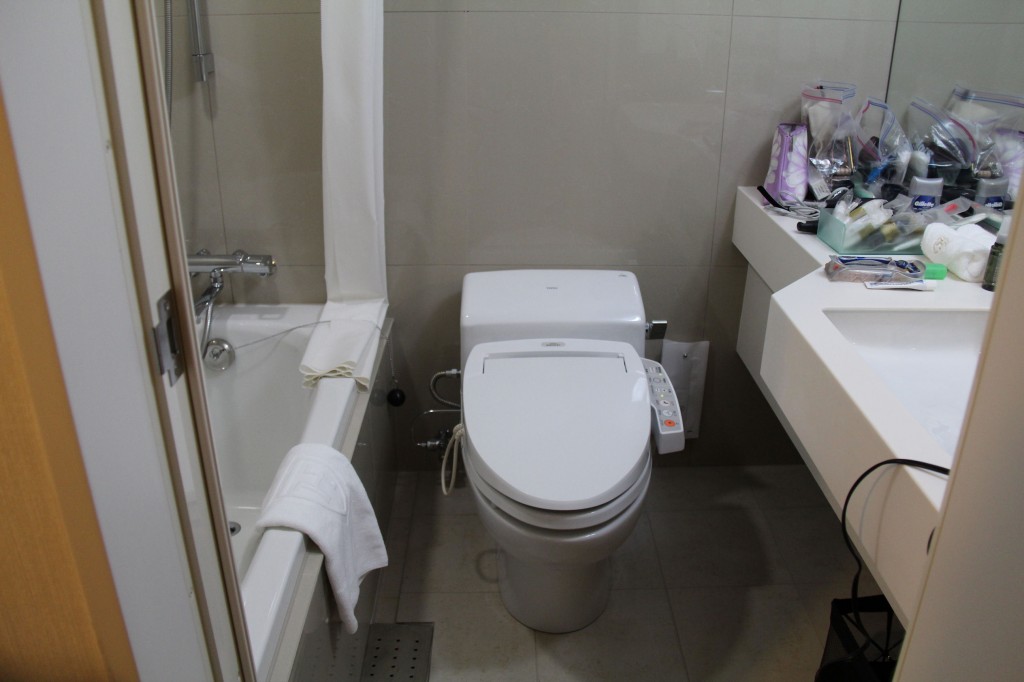 See that little metal drain on the floor? Good thing it was there. It took us a while to figure out how to use the shower without flooding the bathroom. Also, the toilet has buttons; heated toilet seat and bidet. A lot of the public washrooms had the same thing.
Anyway, that first night I crashed as soon as we got back to the room. Good news is, the next day I woke up feeling all normal and adjusted. Hang on to your hats, Cory & I are about to commence some high-speed touristing.